Have you ever come across an artist's work and felt a sense of both blissful nostalgia and happiness? We've experienced this feeling with the work of illustrator Matthew Rivera. Matthew is a professional artist with a focus on illustrating children's books. His vibrant illustrations have been described as "expressive & comical," bringing characters he's envisioned to life as close to the real thing as artistically possible. He has illustrated three children's books, all released in 2019, which you can purchase on Amazon & other retailers: I'm Happy-Sad Today, Operation Photobomb, and Dinosaur Yoga, as well as two additional books scheduled for release this year! We have been fascinated with Matthew's work since he first posted one of his illustrations on Instagram and tagged @GotPrint. Matthew has been printing postcards with us for a few years now. This year, we had the pleasure of speaking with him to find out more about his life, career, and all that he's done to end up where he is today.
---
Tell us a bit about yourself!
I grew up in Arizona and I've been drawing and making art since I was old enough to hold a crayon. I studied both music and art at the University of Arizona before earning my bachelor's degree in fine art. After college, I worked as a graphic designer for a small boutique graphic design agency in Tucson. I moved to Los Angeles in 1999 and worked for many years as an art director for a specialty toy company, producing packaging and catalogs. Then, in 2009, I moved on to a large corporation where I focused on branding and marketing. Five years ago, I recognized that I needed more creative work in my life. That's when I picked up my watercolors and drawing tools again to pursue a career illustrating and writing for children. For a while, I worked at my 9-to-5 job, and used every moment of free time, my evenings and weekends, building a career as an illustrator. I'm happy to share that my first picture books as an illustrator were released in 2019. I also have three new books coming out over the next 14 months. Now, I live in Portland, OR, and in my free time, I try to get lost in nature as much as possible. I also love to read, I love to cook, and I have a passion for animals and animal causes.

How did you start out in the world of design and illustration? What inspired you?
I've always been drawn to art and design. I won every poster design contest throughout elementary school and I was a yearbook editor in high school. In college, I started out studying music education but switched to fine art during my sophomore year. I took a few illustration courses but I felt graphic design and commercial art was a more practical choice at that time. That's how I began my career as a designer. As a child, I was totally inspired by the Walt Disney books series on nature and animals. I was always drawing birds, safari animals, sea life, and dinosaurs. Animals and nature have definitely been a source of inspiration for me. This, plus my love of reading and telling stories are what led me to writing and illustrating.
As a creative professional, what does your day-to-day life consist of?
My career is a business. Also, as a freelancer, it's important to show up and make work. I'm at my desk by 8:30 AM and I make sure I take a lunch break around noon. If I have deadlines or if I'm super swamped, it's easy for me to sit down in the morning, still in my workout clothes or pajamas, and draw and paint into the evening without moving from my desk. I try to make sure I take breaks and stay off social media as much as possible when I'm working. Also, I carve out time for administrative responsibilities such as answering emails, updating my website, planning my schedule, etc. If I'm not on a deadline or if I'm between projects, I fill my time working on my own stories and manuscripts, which includes research at the library, drawing at the zoo or botanical gardens, and making new art for promotions.
What would you say to your younger self if you could go back in time?
I would say stick with illustration! I took a 20-plus year break from making art. I try not to think of the past and stay focused on the future, but I'd consider this one of my biggest regrets.

What's the hardest part about being an illustrator/designer?
The hardest part is the unknown. Even after building a portfolio, finding an agent, working with publishers, and having a published body of work, I have to admit: there are no guarantees. This career requires a tremendous amount of perseverance. I figure as long as I continue to show up to my desk, make art, and work hard, I'm keeping the energy flowing in the right direction.
Which of your projects would you say is your favorite one and why?
I don't have a favorite project. I love every one of my books for different reasons. Plus, I've grown as an artist with each one. I do have two picture books being released this year that I'm super excited about. One tells the story of a young flamingo who's a picky eater. Flamingos happen to be my favorite birds. The art involved a lot of feathers, many trips to the LA zoo for studies, and a lot of pink paint! The other book is about a 'unisaurus' which combines my love of unicorns and dinosaurs. They're both wonderful stories and each one pushed my art to new levels.
What advice would you give to aspiring young artists looking to make a career out of their talents?
Having talent is fantastic, but doing the actual work counts more. My favorite motto is, never wish for it more than you work for it. If you're an illustrator or writer wanting to make books for children, I'd strongly recommend joining the Society of Children's Book Writers and Illustrators (SCBWI). It's an organization made up of authors, illustrators, and other professionals working in children's publishing. Their annual conferences provide opportunities to share your work via portfolio showcases, plus connect with editors and art directors from all the major and independent publishing houses. Also, you meet other writers and illustrators on the same path. Just by becoming a member, you gain access to a wealth of information: how to write for children, find an agent, sell your stories, etc. It's how I met my circle of friends, and it's how we started out in the business.
How do you use GotPrint products to promote/share your work?
Postcards are essential for an illustrator working in children's publishing. They're one of my main advertising tools and a great way to display my work. I try to do a mailing three times a year to reach art directors and editors at publishing houses. Plus, I give out postcards at SCBWI conferences I attend throughout the year, which are also attended by editors, art directors, and agents looking for new talent. My previous agent contacted me through my postcard, which she picked up at a SCBWI portfolio showcase event a few years back. As a marketing tool, postcards are vital. I've printed my postcards with GotPrint for many years because they're affordable and fast without sacrificing quality. Conferences aren't cheap, so it's nice to save on printing.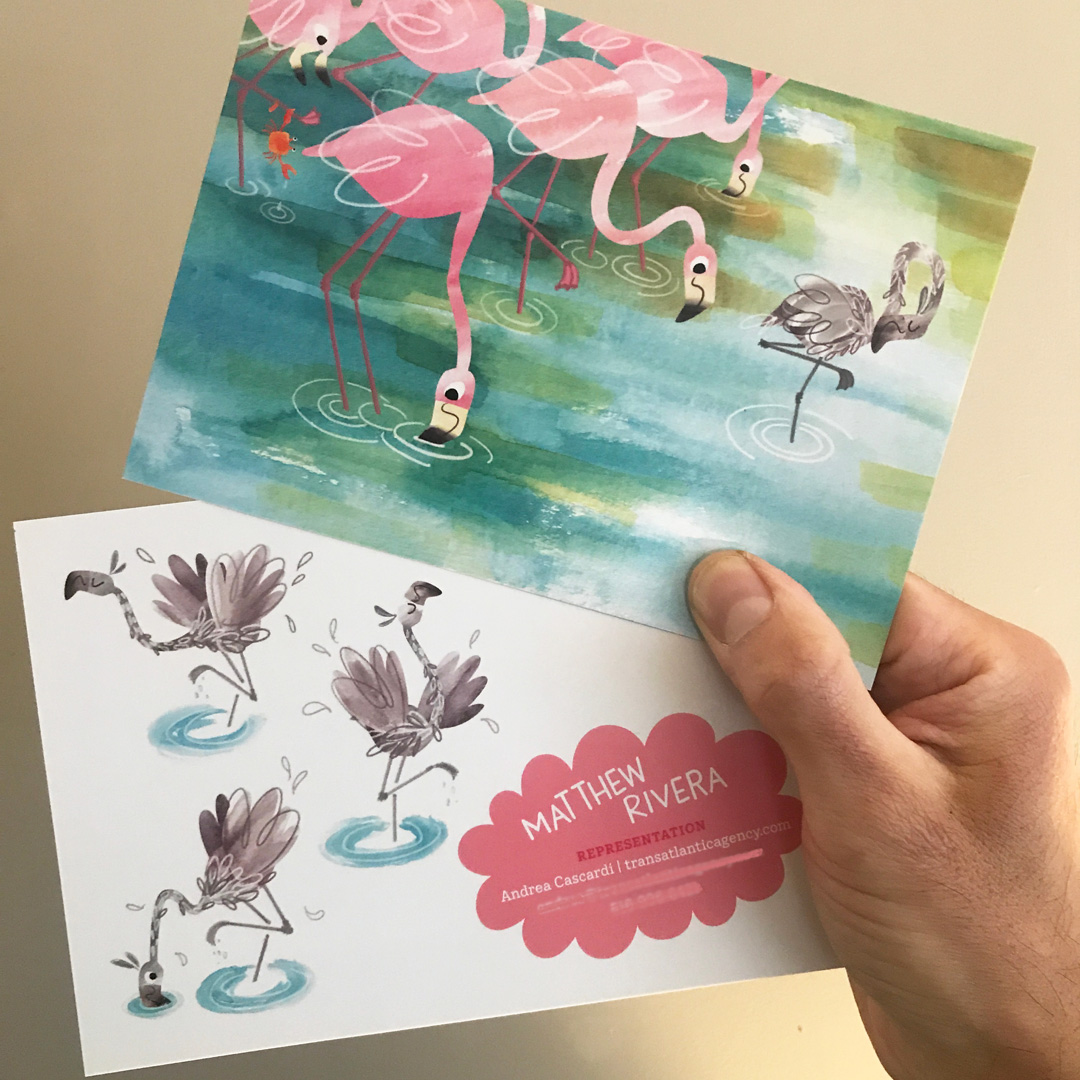 What's the most rewarding part about being an illustrator/designer?
Making a picture book requires a tremendous amount of hard work. Once you're given the manuscript, you start by sketching thirty-two pages of concept pages. Then, after approvals, you spend weeks, or even months, drawing and painting final art. Finally, months later, you see your book on a shelf in a bookstore, or for sale online, with your name on the front cover. Seeing my books for sale, and in the hands of children, is definitely the most rewarding part of my job.
---
We hope that this interview will inspire artistic individuals who have ambitions to pursue a career in the creative field.
Matthew Rivera's upcoming releases, Fussy Flamingo and Roxy, the Last Unisaurus Rex are scheduled for July 1st and October 1st of 2020. Check out his website, where you can pre-order your copies or purchase books that are already out. Don't forget to follow @matthewdidit on Instagram for a daily dose of happiness!