The act of networking can pave a pathway to a successful career. Whether you're a part of a large scale corporation or run your own business, building a network of people allows you to gain insight into best business practices from different perspectives. Not only that, networking opens up the possibility for potential collaborations between individuals or companies. One of the most common places to expand your network and overall knowledge is by attending a conference. The word "conference" may come off as intimidating for some people, especially if you consider the fact that many conferences are hosted in grand scale venues. I'll be the first to admit that I was once "some people" in this case.
Recently, a couple of us at GotPrint attended a marketing conference in Los Angeles hosted by AdWeek. The event consisted of thought-provoking conversations, speakers, and panels made up of marketing professionals from companies like Fabfitfun, Revolve, My/Mo Mochi, and Beyond Meat. Overall, it was a positive experience with plenty of information and connections to take home.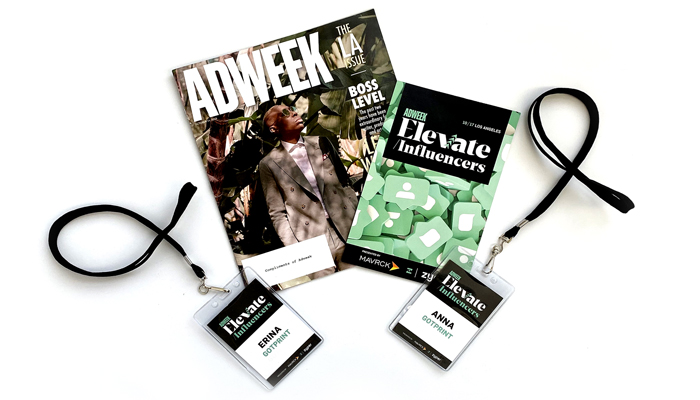 Now, if you're new to the game, you'll probably find yourself searching for answers to questions like: What do I do if I've never been to a conference? What do I take with me? How should I dress? Is there a specific manual for dummies called "How to be Awesome at Networking"? A Youtube tutorial perhaps? Do I just wing it and hope for the best? 
Good news! Most of these questions can be answered with a little bit of research and experience.
My concerns and thoughts post-conference, compared to my thoughts pre-conference, differ greatly.
Here are 6 essential takeaways that I gathered by the end of the day that can be helpful for any future conference-goer:
1. Do Some Pre-Conference Research
Just like you would before a job interview, make sure to do some research on the conference/event you are attending. It's good to have a layout of not only the day's agenda but also a roster of who will be attending. This way, you have the chance to strategize your potential networking opportunities based on who you'd like to connect with and how a collaboration or partnership would benefit both parties.
2. Carry Updated Business Cards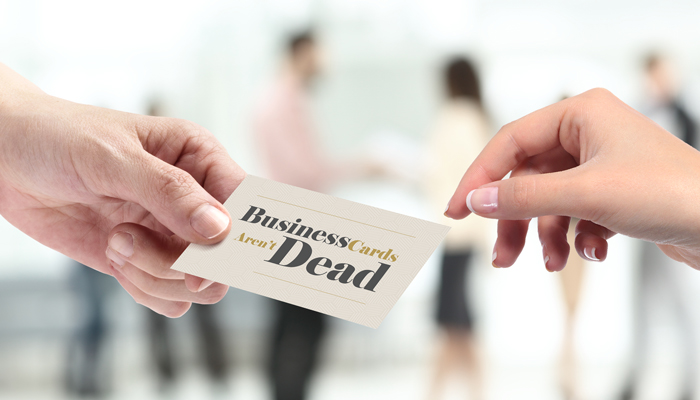 In the age of advanced technology, you might think this tip is useless. I have four words for you: Business cards aren't dead. You or your company most likely have multiple social channels and points of contact. What better way to share all of that info than on a classic marketing tool? Not only that, but you can also highlight your brand's identity on the card. Get creative! Whether it's your brand's color scheme, a catchy slogan, or the official logo, you'll more likely to leave a good first impression with a great attitude AND a tangible object for recollection. For an added level of impression, I recommend printing your business cards on a unique shape, such as a square or leaf! Check out the special shapes we offer.
3. Wear Comfortable Attire
Yes, this is important. The general dress code for these types of events is business casual. With that being said, make sure to take comfort into consideration as well. You'll be out and about all day and most likely be walking a lot, so it's best to opt for a nice pair of loafers or flats. A note to the ladies: leave the stilettos at home, especially if wearing heels doesn't come second nature to you. If you're not convinced yet, think of it this way…you may look and feel confident at the start of the day, but by the end of it, you might end up wobbling around like a newborn fawn! Comfort is key.
4. Take Notes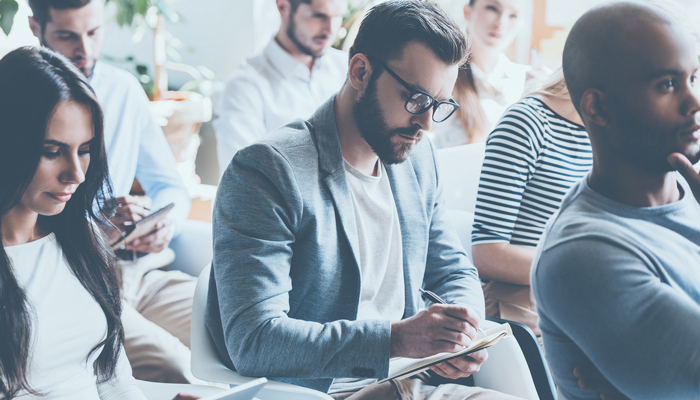 This one probably seems like a given, yet I almost didn't take a notebook with me. Some of you are probably thinking, "You could just take notes on your smartphone." I know, I know, but I'm old school. I prefer the ol' pen and paper combo. By the end of the conference, I had filled up a good 5 pages of notes! You can take notes on anything you feel comfortable with – a notepad, a tablet, or even a laptop.
The speakers that are selected to participate in these panels are selected because they:
a) have the hands-on experience in areas that you wish to expand in
b) want to share their insights with you
c) know how to engage an audience
The notes you take at a conference will give you a foundational guideline for turning new information into regular practices for your company.
5. Don't be Afraid to Mingle
Most conferences are followed by mixers so that you can network in a more relaxed environment. The point of a mixer is to meet people and make valuable business connections. Expect to be approached, and don't be afraid to approach others. And! Casual post-conference mixers are usually accompanied by appetizers and an open bar. Why not enjoy a nice cocktail or glass of wine to ease your nerves?
6. Engage in Post-Conference Outreach
You've got a ton of information and a stack of other people's business cards, but none of it is useful if you aren't proactive. Maybe you met a representative of a company that aligns with your business values, or you thought someone had cool ideas for a collaboration. In any case, reach out to the people you mingled with to broaden your network. Connect with them on LinkedIn, start a conversation via email, set up a conference call, or organize a lunch meeting to build a lasting professional relationship.
Whether you're a seasoned conference attendee or new to the game, always keep these 6 tips in mind and you'll have a well-rounded conference experience. If you attend enough conferences and break away from your shell, you'll be a networking pro in no time!