There are many moving parts that work together to make an event a success. Whether you're a professional event planner or simply a host, event planning takes a great deal of effort. Organizing small- or large-scale events, such as weddings, galas, or birthdays, all have one thing in common – they require invitations that entice guests to attend.  
There are different methods you can use to send out invitations, depending on the nature of your event. Some take the more modern route of using online platforms like Paperless Post and Evite to send virtual invitations, but many still favor physical printed invitations. In our opinion, physical invitations are much more customizable and possess a certain elegance that online invitations can't convey on their own.  
With physical invites and stationery, you can customize everything, even the type of paper stock you'd like to print on. If you ask us, our favorite part about printing invitations and stationery is the fact that you can take them to the next level and apply specialty finishes, like Raised UV and Foil, to your designs. 
What are specialty finishes?
Specialty finishes are as the name suggests, finishes that can be added to your design files to give your final prints an extra pop of distinction. Raised UV is when partial high gloss raised UV is applied over specific graphic elements on a design. The result strikes a significant contrast, shine, and thickness between the elements that have the Raised UV and the rest of the design. Raised UV can be applied to any color within your design. The applied amount of Raised UV can range from 5% – 100% with 100% being 50 microns. Raised Foil is when partial high raised foil is applied over specific graphic elements on a design. The result strikes a significant contrast, shine, and thickness between the elements that have the Raised Foil and the rest of the design. We currently offer raised foil colors of gold, silver, and rose gold.  
These specialty finishes can be added to Business Cards, Postcards, Greeting Cards, Folded Business Cards, Club Flyers, Rack Cards, & more, all printed on 16 pt. Premium Matte, which means that we have the perfect range of products for you to choose from when it comes to printing event stationery. Continue reading to see our suggestions and inspiration for how you can use these products in a creative way!
Place Cards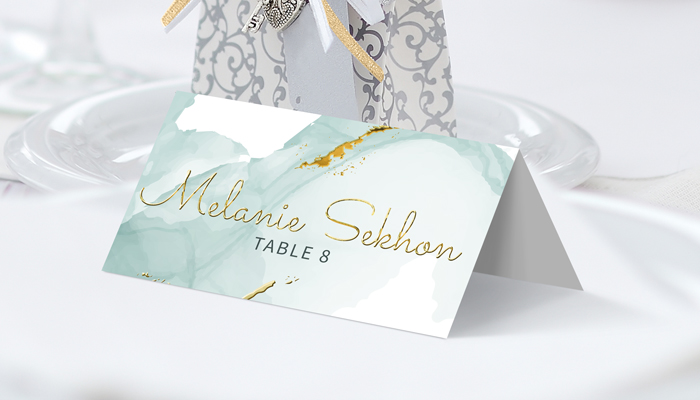 Folded Business Cards are often used as a professional marketing tool, but they are also very commonly seen as place cards! Often at events that have seating arrangements, such as weddings, formal galas, or birthday dinners. Adding a specialty finish on even the smallest element of your place cards will tie every guest's place setting together (it looks great in photos too!).
Invitations & RSVP Cards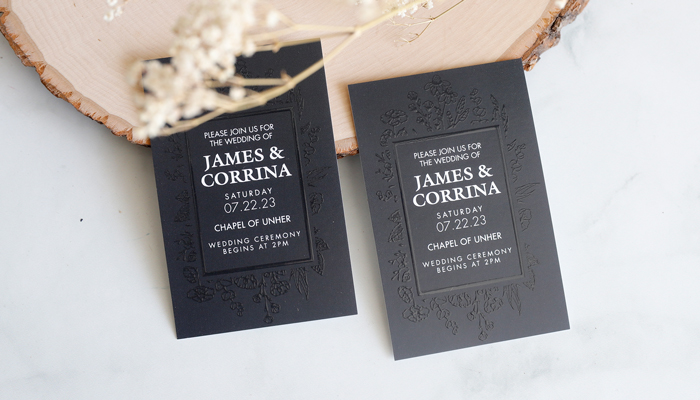 One of the most common uses of a Postcard is printing invitation suites – that means the invites themselves, RSVP cards, details cards, and so on- essentially, everything informational that goes inside of the envelope. Raised UV or Foil on an invitation suite instantly makes them look more sophisticated and overall memorable. Weddings, galas, and birthdays alike need a special touch to make the entire invitation suite unique.
Dinner Menus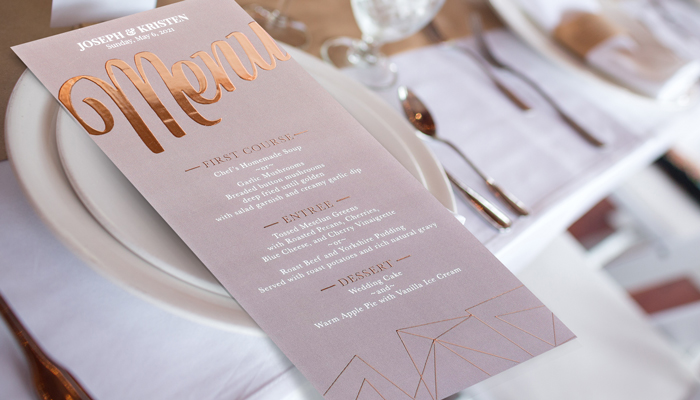 A Rack Card comes in one size, 4" x 9", and coincidentally, also is just the right size for a printed dinner menu or event program. Adding a touch of UV or Foil (pictured with a Rose Gold Foil) will make your menus or programs stand out, not to mention, they'll look fantastic in the "details" style photos of your event setup.  
Welcome / Information Cards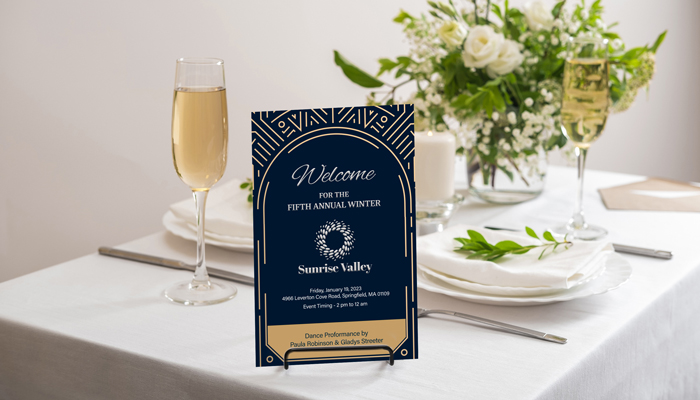 A Flyer is usually used to provide information. Club Flyers also do the same, but have more unique sizes in comparison to regular flyers. Plus, Our Club Flyers have the option to add a specialty finish! With unique size options and a specialty finish, you can definitely use club flyers to share necessary information at your event, such as a program, while still looking elegant.
Thank You Cards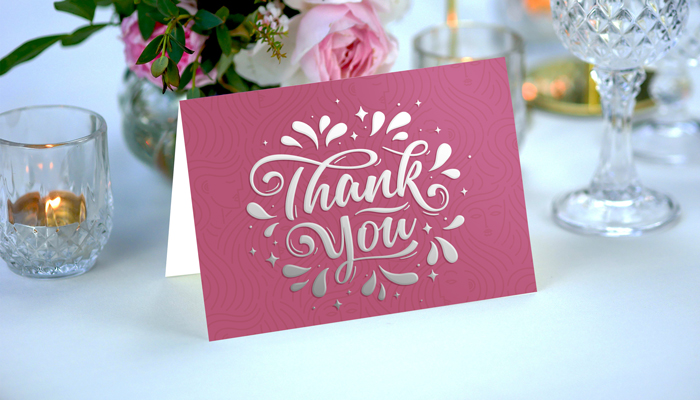 To thank your guests for attending your event, we recommend you send out custom Greeting Cards with a specialty finish added to them. The message can be the same for everyone, but it's the thoughtfulness of actually making and mailing these cards out after the fact that will leave the guests with a lasting impression of both your event and your abilities as a host.  
—
If you decide to print all your event stationery with a specialty finish, your entire setup will look cohesive, sophisticated, and put together, making you a notable host who puts attention to detail.
Inspired by this blog? Share your finished prints on social media and tag us! @GotPrint