In the past few months, businesses of all industries and sizes have had to make sacrifices and changes for the greater good, including temporarily closing their doors in accordance with orders surrounding the novel Coronavirus. We've all been on the same journey of uncertainty while looking forward to the process of rebuilding.
Now that restrictions are slowly being lifted to allow people to go back to work in a safe manner, it's time to revisit the game plan you've been working on since lockdowns began. If we've learned anything from this crisis, it's that plans can change at any time, and it's important that we be open to alternative methods of planning once our original plan is deemed invalid. It's possible that you may be feeling a little lost, so we'd like to share some key ideas with you to get the ball rolling again. 
Let's get back to business with these 5 tips!
---
Display Appropriate Signage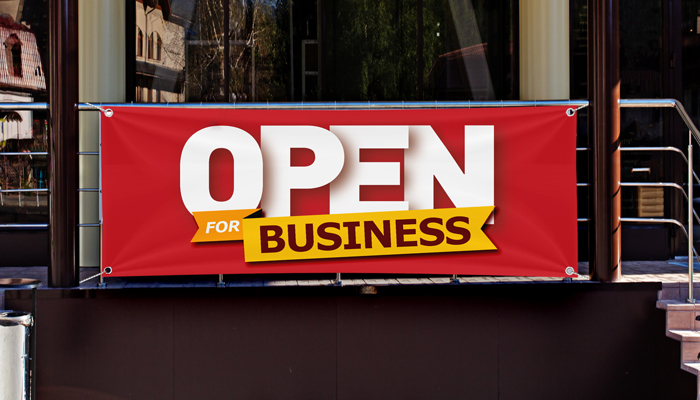 If your state or county has been given the clearance to start reopening again, and your business falls under the designated list of cleared establishments, congratulations to you! This is a big deal, which means you need to advertise the reopening as such. Printing and displaying eye-catching signage such as vinyl banners, a-frame signs, foam boards, retractable banners, and window decals that clearly state you are now open will bring excitement to both the business and its customers. Many people still go on walks and drives in and around the neighborhood just to see what's happening in real-time, and seeing a sign in front of their favorite place with something along the lines of "we're open" again will surely entice visits from your regular customers and then some. 
---
Offer Deals & Discounts
Having promotional sales and deals during a pandemic may seem a bit daunting, considering business has been very slow or possibly even nonexistent up until now. In our humble opinion, we believe that even now, discounts serve as more of a benefit than harm. Consumers are trying to save money, yes, but if they truly need to purchase something, they will do so, and even better, if a discount is offered, the chance of purchase is more likely, along with the quantity purchased. Especially if you are a place of business that provides goods and services for other businesses, consider providing a discount store-wide or site-wide discount. This will benefit not only your business in terms of sales but your clients' businesses as well. 
---
Print Up-to-Date Marketing Materials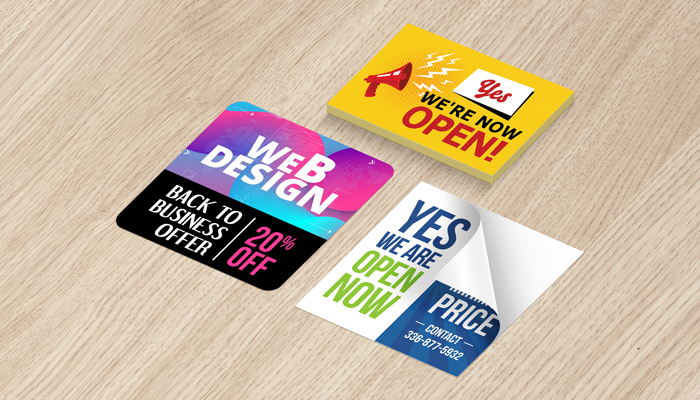 It's clear that pre-COVID vs present-day are entirely different times, and while the Coronavirus isn't going anywhere for the time being, it's important to adjust your business accordingly. We're not suggesting a full-on rebranding, especially if you've just begun to establish your brand. Instead, we are suggesting a refresh. New marketing materials can bring a world of difference to your business plan. Your business is not the same as it was before the virus took over, so don't treat it as such. Printing materials like brochures, business cards, stickers, rack cards, and posters with an improved look and up-to-date information can really speak volumes for the reopening of your establishment. 
---
Establish New Guidelines & Regulations
This tip is very important — As a business, you were given clearance to reopen your doors, but please remember that we are still in the middle of a pandemic and that the virus isn't gone. Your state and local officials may give you the proper guidelines on how to reopen and run your business, but it is up to you, as the owner or manager, to see those guidelines and regulations through. Displaying signage, having weekly staff meetings, and reassuring customers are all steps you can take to ensure the safety of staff and patrons. Remember, there may be uneasy employees or customers, and as a business owner, it is and always has been your duty to make sure everyone feels safe within your establishment. This type of initiative will surely be acknowledged.  
---
Use Mail Marketing and Social Media Marketing to Your Advantage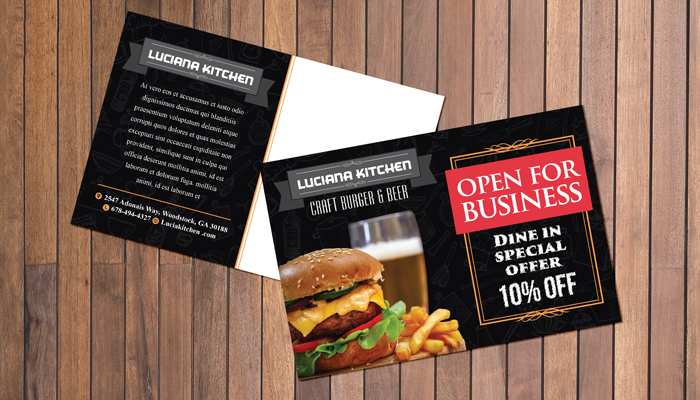 While signage is a great way to announce that your business has reopened, consider all the people who have not left their homes for days, or even weeks. People who are cooped up at home are likely to be glued to their phones and checking their mail daily.  Posting on your social platforms, sending out marketing emails, and sending out postcard mailers of important updates to your business are steps you should take to further spread the news of your opening. For a quick and affordable mail marketing method, you can use Every Door Direct Mail®, or EDDM®, to effectively send out mailers to zip codes of your choosing. For online outreach, consider reaching out to local bloggers and influencers who can generate new clients by advertising your business to their follower base. You can ask for their stats and a run-down of their audience. Whichever method you choose, you can be sure that your marketing efforts won't go unnoticed.
---
We know that this has been a trying time. We are in this together, and we hope these tips will be of great use in the beginning stages of reopening your establishment. Head to our website now to see what offers we have to help you get back to business stronger than before! 
Let us know in the comments below if you're a business owner and what sort of steps you're taking to safely reopen your establishment.