Planning your dream wedding can feel overwhelming at times, but by tackling each step one at a time, you will be rewarded with a beautiful and memorable ceremony! Once you've finalized the date and location, it's time to turn your attention to the little details that will make your wedding day as special and unique as your relationship.
Before ordering wedding stationery, take some time to consider whether your wedding will have a theme, whether it will be a more formal or casual ceremony and what role, if any, family and cultural traditions will play. When it comes to wedding invitations, everything from color scheme to font choice will set the tone for the event, so allow yourself enough time to find or create the perfect design.
---
Pre-Wedding Stationery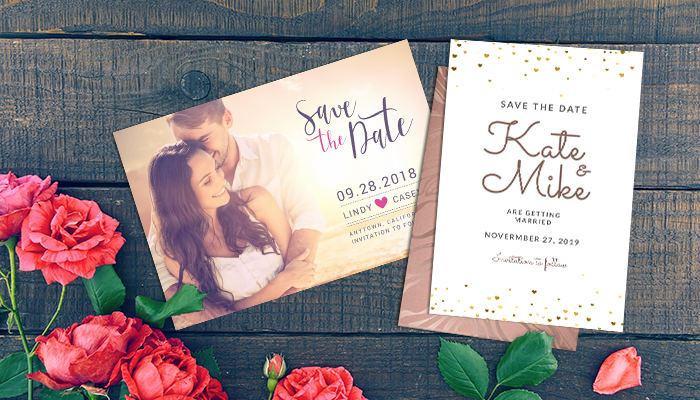 Save the Dates
Keep your save the date simple! Most save the date cards include only the couple's names and the date and city of the ceremony, plus the phrase "Formal invitation to follow." If you plan on setting up a wedding website, we recommend doing so first so you can include the URL on the card.
Since you are still in the early planning stages, it's not essential for save the dates to match the wedding invites. This is your opportunity to be a little more playful or casual. A photo save the date is an excellent excuse to share your favorite engagement picture! If you're looking to save money and reduce your carbon footprint, save the date postcards can help you do both.
Save the dates are typically sent six to eight months in advance. For destination weddings, guests will appreciate a little more notice, so it is not uncommon to send destination save the date cards nine months to a year in advance.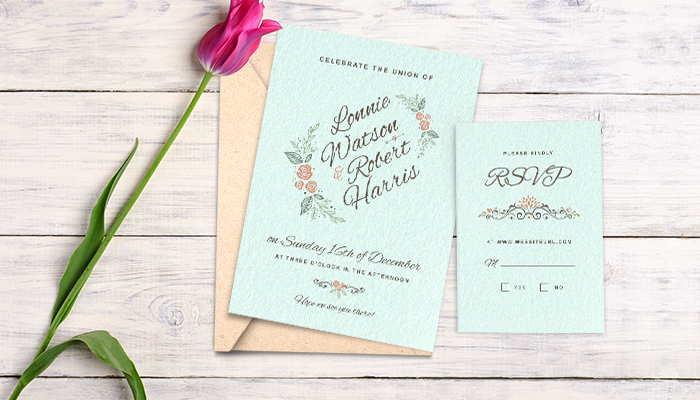 Wedding Invitations
Plan on sending wedding invitations six to eight weeks before the wedding – it may take some time to find the right design and finalize the wording so don't wait until the last minute! The invitation itself should include the names of the bride and groom, the names of the parents hosting the wedding, the date and time of the ceremony, and the venue.
Your wedding invitation suite should include an RSVP or response card for guests to let you know how many people are coming and their preferred meal choice. Print a reply-by date on the card, ideally three to four weeks before the wedding. It is courteous to include a stamped, addressed envelope with the response card. If the ceremony is a little more informal, you might opt for a response postcard instead.
If the wedding reception will not be held in the same location as the ceremony, include a reception card with key details such as venue name and address. Your wedding invitation suite should reflect the style of the event, but if you would like to emphasize a specific dress code such as "black tie" or "garden attire," feel free to include that information on the invitation or reception card.
For destination weddings, don't forget to include a details card and/or custom map with travel and hotel information. For extended weekend ceremonies, folded wedding invitations will give you plenty of space to include a full itinerary.
Finally, keep in mind that following proper wedding etiquette means leaving off any mention of gifts or registry within your invitation suite. Include any registry information on your wedding website and let your family, wedding party and friends spread the word.
---
Day-Of Wedding Stationery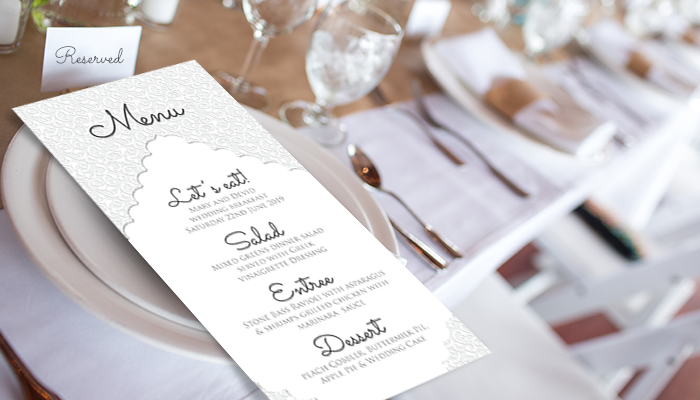 Wedding Programs
A wedding program lists the order of ceremony, musical selections, the officiant and the members of the wedding party. You may also wish to include additional elements such as bios, thank you messages and poems.
Place Cards or Escort Cards
You've spent a lot of time on the seating chart, so it's understandable that you want your guests to follow it closely. You can display folded escort cards with each guest's name and table number at the entrance of the reception area, or you can take it one step further and assign individual seats with the help of place cards.
Wedding Menus
If you're serving a multi-course meal, your guests will appreciate knowing what they can expect so they can pace themselves accordingly. A custom wedding menu is a good time to note any special ingredients or dishes such as locally-grown vegetables or garlic rolls from your favorite Italian restaurant.
Wedding Favor Hang Tags
Custom hang tags are the ideal finishing touch for your wedding favors. Whether hanging from mini champagne bottles or candles, wedding favor hang tags are an easy and affordable way to personalize each gift.
---
Post-Wedding Stationery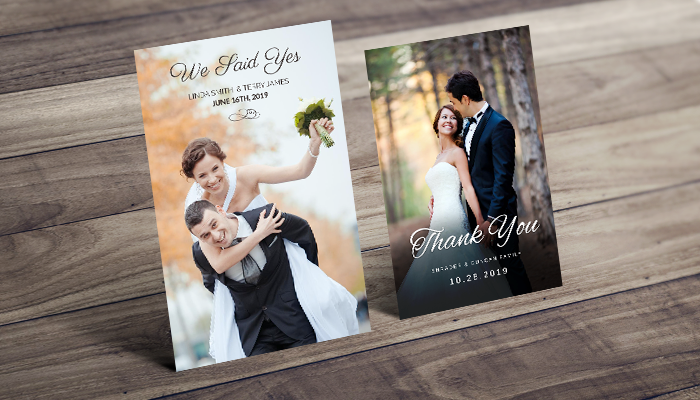 Thank You Cards
Other than the invitations, this may be the single most important piece of wedding stationery you will order! Photo thank you cards are fun to receive, but a more traditional approach will always be welcome as well. A sincere thank you note will brighten the recipient's day, and you'll be happy to cross the final piece of wedding stationery off your list!
Wedding Announcements
If you and your partner choose to elope or have a small family-only ceremony, wedding announcements are a great way to let extended family and friends in on the good news! Some couples also choose to send wedding announcements to invited guests who were unable to attend. You want to send these within a month (at the latest) of tying the knot, so if you plan on including a photo from the ceremony, arrange with your photographer to pick out the perfect image a few days after the wedding.
Keep the wording simple – the couple's names, the hosts' name (if applicable), and the date and location of the wedding is often sufficient.
We hope these tips making your wedding planning just a little bit easier. If you're ready to shop or looking for inspiration, feel free to browse through our varied selection today. Or, if you're looking to create a completely custom wedding suite, our expert design team can help you turn your vision into reality!