There is often so much going on this time of year, from holiday travel to crazy work schedules, that hosting a Halloween party may seem like an intimidating endeavor. However, with a little advance planning and these easy tips, you can throw an incredible Halloween bash that will get the holiday season off to a great start!
---
1. Order Party Invites Now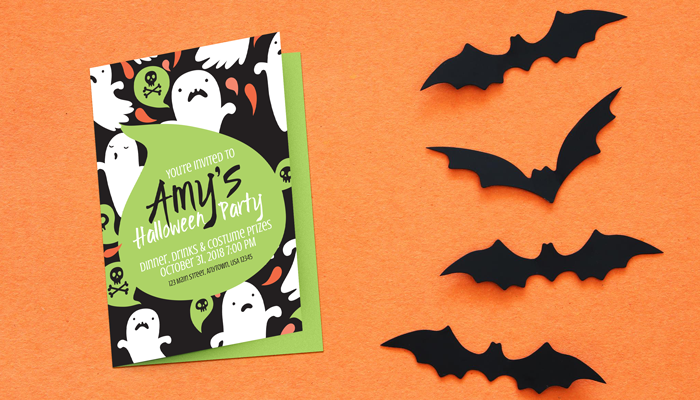 With so many competing parties and events this time of year, sending out your invites a few weeks early will help ensure a strong turnout. Get guests excited with festive Halloween party invitations they won't be able to resist!
---
2. Get Creative with Entryway Decor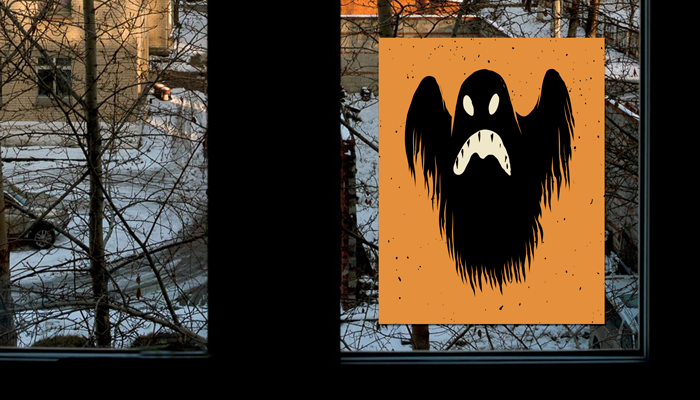 When it comes to Halloween party decor, think beyond spiderwebs and skeletons. Order window decals printed with bloody handprints or optical illusion floor decals depicting wide cracks in the floor.
---
3. Scare Them with Yard Signs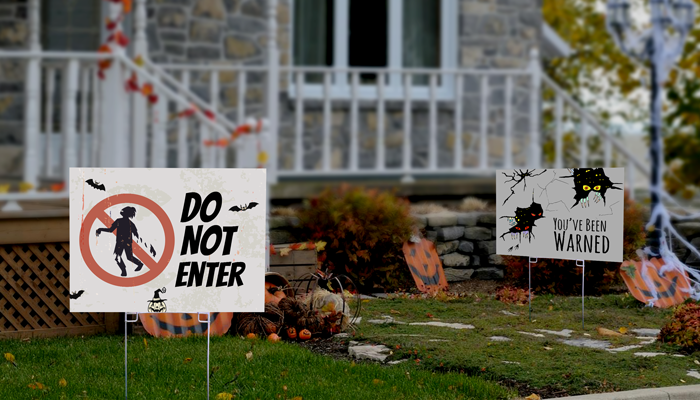 Those innocuous yard signs typically used to sell real estate? Turn them into instruments of terror by using them to post various warnings, such as "Enter at Your Own Risk" and "Abandon All Hope."
---
4. Hang Nightmare-Inducing Wall Art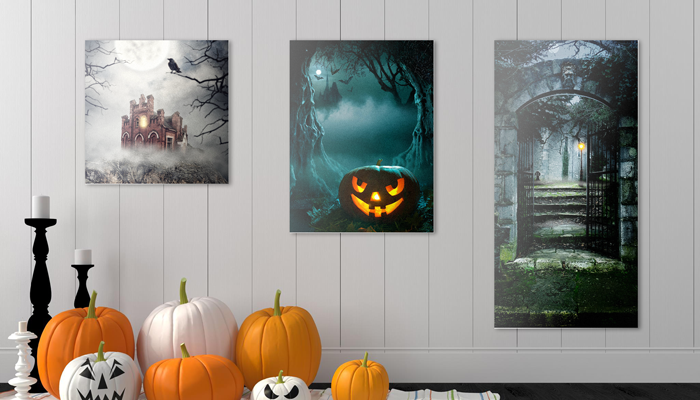 Decorate your walls with foam boards or mounted wall prints featuring a variety of shudder-inducing images. You can find dozens of creepy vintage public domain photos online from the Metropolitan Museum of Art or The New York Public Library.
---
5. Cordon Off Private Rooms
If certain areas of your home are off-limits to guests, barricade those rooms with yellow crime scene tape, which is easily available online.
---
6. Spread Out Food and Drink Stations
If you're asking guests to serve themselves, have multiple tables set up for the appetizers, main courses, desserts, and drinks. This helps avoid congestion and encourages guests to wander around and be social.
---
7. Serve BOOzy Beer and Cocktails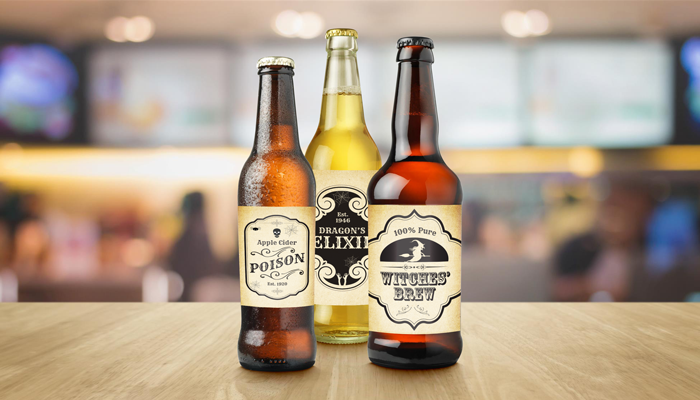 Peel off the labels from beer and liquor bottles and re-brand them with Halloween-themed custom stickers and hang tags. Who wouldn't want to drink "Witches' Brew" or "Poison Apple Cider"?
---
8. Prepare Halloween-Themed Dishes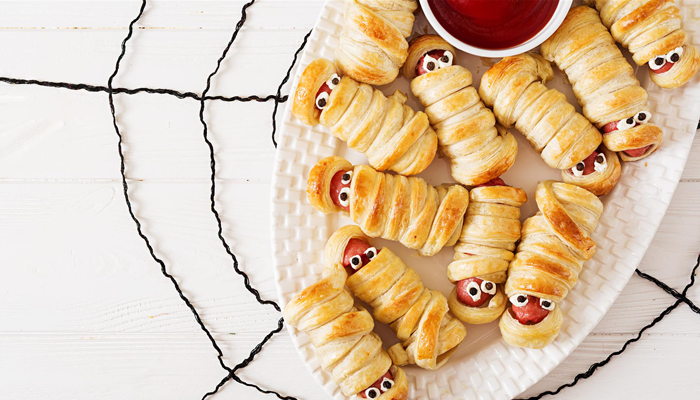 Your guests will expect food that looks disturbing but tastes delicious! Our favorite DIY Halloween party snacks include:
---
9. Pour a Revealing Drink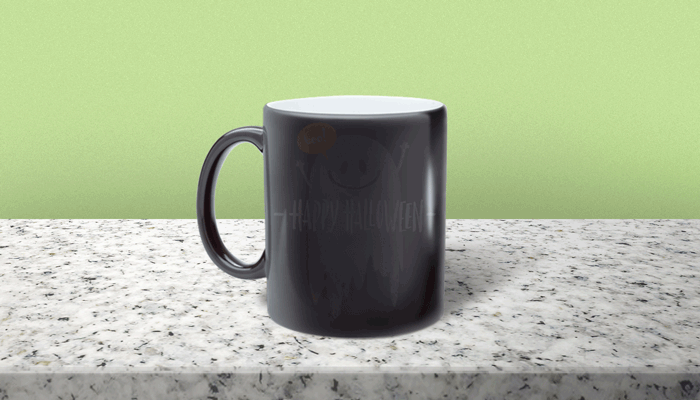 Print terrifying graphics or eerie quotes onto heat activated mugs. Guests will love watching the mugs come to life as they help themselves to coffee and cider.
---
10. Give Out Prizes
Reward guests for their efforts by handing out prizes for multiple costume categories, including best overall costume, best makeup, best duo and most creative.
---
11. Don't Forget the Party Favors
Show your guests how much you enjoyed their company by sending them home with thoughtful party favors. I love handing out jars of my favorite jam, photo puzzles, mini champagne bottles, and small flower pots!
---
12. Ask Guests to Donate Candy
By the time Halloween comes around, most of us are close to experiencing candy fatigue. Set out a large bin and ask guests to bring any extra sealed bags of candy to donate to local charities.
---
13. Play Horror Music in the Background
Hide Bluetooth speakers throughout various rooms and put together a compilation of ominous-sounding classical music, screams, and sinister laughter.
---
14. Hire a Photographer
There will be so many photo-worthy costumes and moments throughout the night, but you'll be having too much fun to capture them all. Hire an amateur photographer to wander around the party so you can focus on your guests.
---
15. Set Up a Photo Backdrop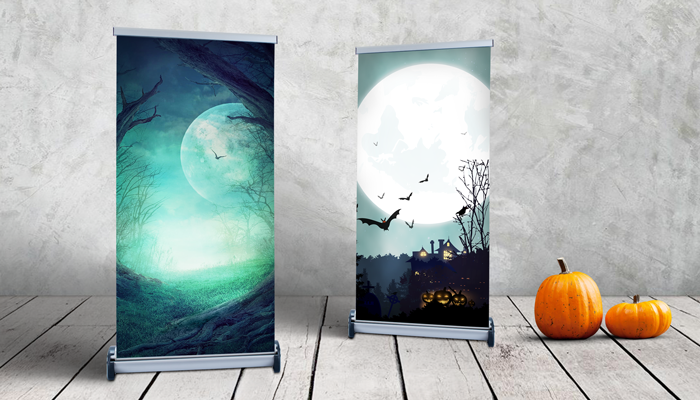 Set the stage for an amazing party by rolling out a red carpet down your walkway and placing a large photo backdrop halfway down the path. A looming scarecrow or haunted forest scene printed on an oversized retractable banner is perfect for this purpose, and the banner can be easily stored and used every year!
---
16. Make it a Movie Night
If you're looking for a more low-key Halloween celebration, host a horror movie screening instead. You can even set up a makeshift concession stand that serves hot dogs, sandwiches and orange (cheddar) and brown (caramel) popcorn.