With over 1 million restaurants in the United States, delicious food and exceptional service are just the bare minimum you need to succeed. The good news is that we're eating out more than ever. In 2017, Americans spent 48% of the family food dollar on restaurants, compared to 25% in 1955.1
In order to stay competitive, restaurateurs can no longer just rely on word of mouth; rather, they should invest some time and resources into developing a multifaceted marketing strategy. As with any other industry, it's essential to understand the audience you are trying to target, as this will help shape your marketing efforts and reduce overall costs. Make sure your marketing campaigns and promotional materials are cohesive and reflect your message and target demographic.
Ready to get started? Here are 22 budget-friendly restaurant marketing tips that are proven to increase exposure and deliver results.
---
1. Direct Mail Postcards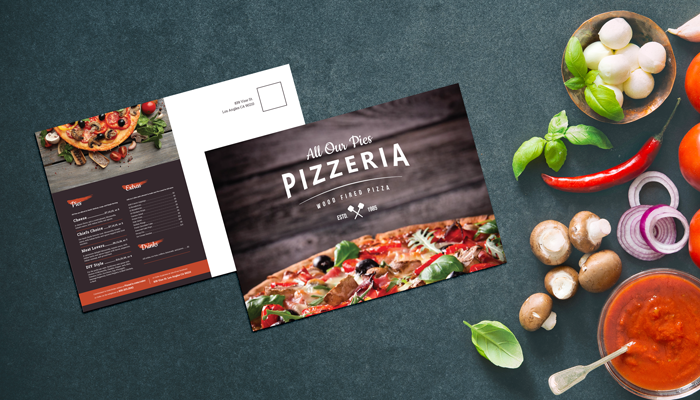 Although the internet now allows restaurants to market far and wide, your most frequent customers will be those who live or work nearby. An effective direct mail campaign can increase food traffic practically overnight!
Postcards are an affordable and visible way to get the word out, especially when combined with USPS® Every Door Direct Mail® service. With EDDM®, you can send a postcard to every house along your preferred routes at a fraction of the cost of presort standard bulk mail. (Please note that not all postcard sizes are eligible for EDDM®. According to USPS®, two of the most popular postcard sizes are 6.5" x 9" and "8.5 x 11.")
If you offer delivery, mail the postcard to every home and establishment within your delivery radius. Otherwise, a good rule of thumb is to target everyone within a 3 to 5-mile radius, as research shows that most consumers prefer to stay local when eating out or running errands. Add a generous coupon or two to increase the chance that the recipient will hold on the postcard.
---
2. Email Marketing
Like most other American diners (86% in fact)2, I like to check out a restaurant's menu prior to making a reservation. Yet, I can't remember the last time I was prompted to enter my email address while on a restaurant's website.
Email marketing has one of the highest conversion rates among all marketing channels because you are targeting an already engaged audience. Encourage website visitors to subscribe to your emails with a pop-up that offers a compelling incentive, such as mouthwatering food photos, birthday rewards or exclusive discounts delivered straight to their inboxes.
---
3. A-Frame Signs aka Sandwich Boards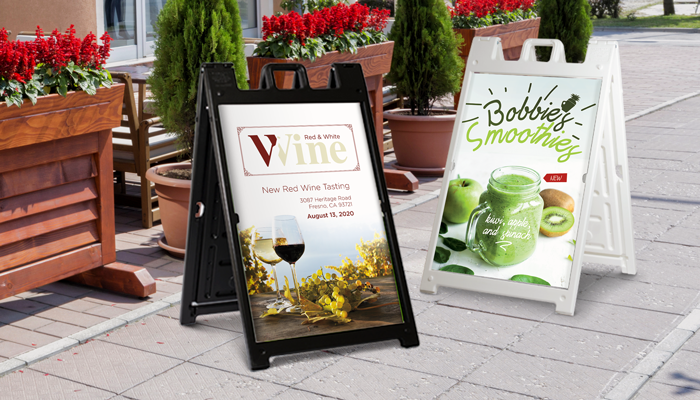 Stop potential customers in their tracks with high-quality sidewalk signs! You'll only have a few seconds to capture their attention so make your message count. Black A-Frame signs are especially popular with food trucks, as the darker shade and durable construction make them suitable for frequent handling and ever-changing environments.
Here are a few tried-and-true restaurant signage ideas:
Advertise lunch specials on one side and happy hour specials on the other
Highlight limited-edition and seasonal dishes to create a sense of urgency
Promote in-demand benefits such as free high-speed wireless or live music
Display mouthwatering large-format food photos to attract hungry customers
---
4. Window Decor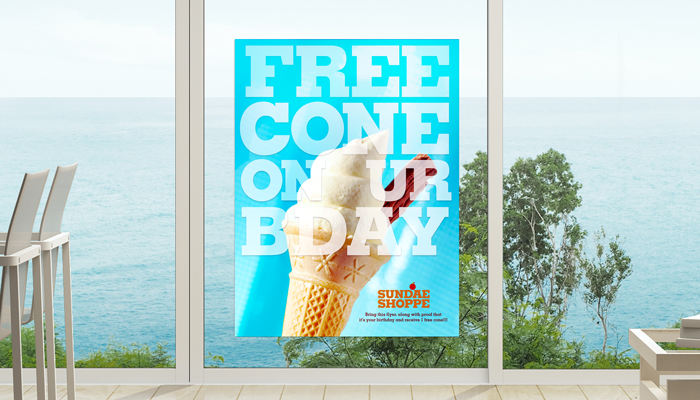 Similar to A-Frame signs, the right window decor will turn passersby into walk-in customers. Although the most common usage for window clings and decals are restaurant names and hours, they are perfect for announcing a new dish or flavor, displaying your menu, or boasting about a recent accolade or achievement.
---
5. Give Back to the Community
Partnering with a local school, nonprofit or charity is a win-win. Not only will you be making a difference, your customers will appreciate the gesture and spread the word, so you will be able to give back that much more. With so many ways to donate however, it can be overwhelming to decide which path is best for you. Here are a few examples of how restaurants have integrated giving back into their business models:
For each burrito or bowl purchased, quick-service Mexican franchise Zambrero donates 1 meal to someone in need
Los Angeles-based coffee shop Muddy Paw donates 10 percent of every cup of coffee to local animal rescue organizations.
From September to May, Bay Area chain Tacolicious donates 15 percent of a month's worth of Monday's proceeds to neighboring schools. They have raised over $1 million since 2012.
---
6. Instagram Food Videos
Instagram food videos are so popular that there are now entire businesses that revolve around them. It's not uncommon for these videos to rack up hundreds of thousands of views, so they can be an extremely powerful marketing tool.
Have someone film the making of your restaurant's signature dish or dessert, then edit the entire process down to a 30 to 60-second video. Little things matter, like having an uncluttered tabletop and background, so we recommend watching several similar videos before attempting your own.
---
7. Loyalty Cards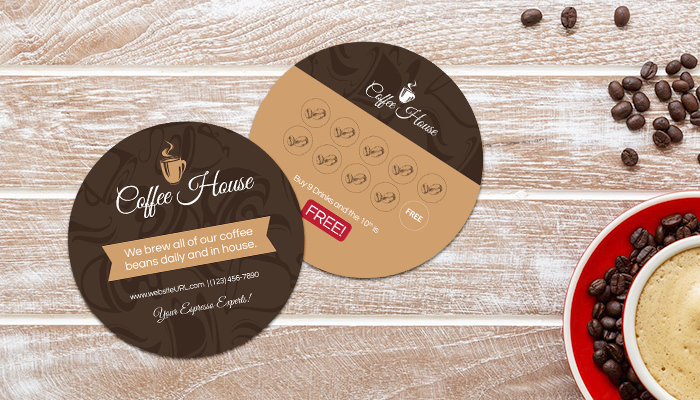 There's a reason just about every coffee chain has its own loyalty program – the cost of a free coffee is nothing compared to the cost of acquiring a new customer. Loyalty cards are also one of the easiest marketing strategies for small businesses to implement. Popular loyalty-based offers include getting the 10th item free or getting a gift certificate for every fixed amount spent.
Your loyalty cards need to be high-quality and durable. Not only are they a reflection of your brand, they are hopefully in frequent use. We recommend printing them on premium special-shape cards to make them easier to find in a wallet or purse.
---
8. Host a Competition
Hosting a competition is a great way to generate buzz – just make sure it's related to your business! If you own a coffee shop, launch an annual latte art championship. For restaurants, an eating challenge (who can eat the most chicken wings or finish a giant pizza) always draws a crowd. Don't forget to reach out to local press, food writers and social media influencers to cover the event in order to attract more participants and increase exposure.
---
9. Train Your Servers to be Marketers
Your staff can make or break your restaurant's reputation, so proper training is essential to your restaurant's success. Every aspect of service, from the initial greeting to dropping off the check, should be carefully crafted so that diners are more likely to leave satisfied, become repeat customers, and refer your establishment to others!
Here are some examples of how restaurants can train employees to act as extensions of their brands:
Maintain meticulous and consistent appearance standards. In-N-Out requires employees to wear clean white uniforms so they embody the chain's wholesome image.
When a customer asks what's good on the menu, the server should recommend two or three popular dishes instead of saying "everything."
Elevate everyday language. Chick-fil-A employees are reportedly trained to reply to "thank you" with "my pleasure" rather than "you're welcome."
Empower your servers to make things right. Give them guidelines on when to offer discounts or free items if that's what it takes to appease an unhappy customer.
---
10. Car Magnets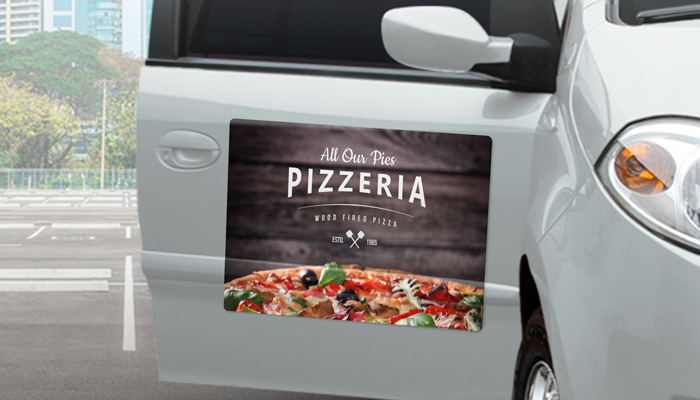 If your restaurant has a fleet of company or delivery cars, maximize their value with custom car magnets! You'll want to make the text big and bold, so don't put much more than your restaurant name, tagline or specialty, phone number and website. Make the background image an appetizing food photo. Car magnets allow you to reach hundreds of potential new customers daily with little additional effort.
---
11. Sell Branded Merchandise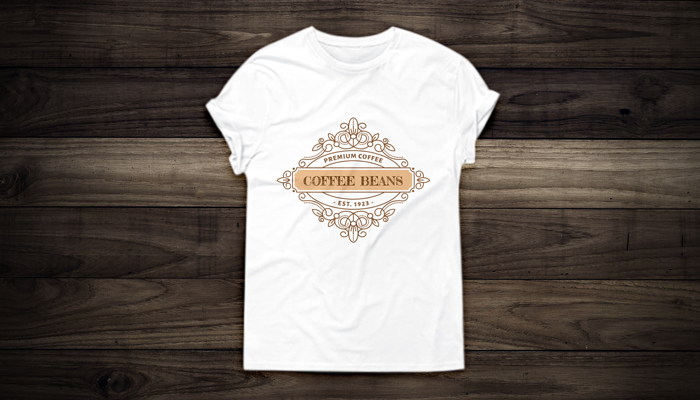 If your restaurant or cafe consistently provides great food and service, it won't take long to build up a loyal fan base. Turn these fans into walking brand ambassadors by selling logo merchandise, including mugs, T-shirts and hats. In-N-Out is a perfect example of a fast food chain that has turned into a formidable brand, and the company reinforces its sunny California image by selling a variety of outdoor-inspired products such as board shorts, golf balls and beach towels.
If your restaurant is located in a popular tourist destination, include the city name beneath your logo. Brand merchandise is also a must if your restaurant has a catchy slogan or revolves around a specific theme.
---
12. Offer Online Ordering
When it comes to ordering from restaurants, millennials prefer takeout and delivery (combined 59%) to dining in (40%) by a significant margin3. Don't let your restaurant get left behind – by offering online take-out and delivery, you can improve the odds that a customer will choose your restaurant over a competitor's. Online ordering is also more accurate than phone orders and can help you build up your customer database for future promotions.
If you wish to avoid the hassle of managing your own team of delivery drivers, you can partner with third-party delivery services such as Uber Eats or Postmates, but keep in mind you will be paying a commission on each sale made through their apps.
---
13. Design Your Menu to Increase Sales
You've spent a lot of time thinking about what's going to be on your menu, but what about the menu design itself? Everything from the color scheme to the layout can impact what and how much your customers will order. Here are some tried-and-true industry tips to increase average check size4:
Drop the dollar sign. A Cornell University study examined how customers reacted to three different price formats: written in numerical format with a dollar sign ($9.00), written in numerical format without a dollar sign (9) and written out in word format (nine dollars). They found that the guest spent far more when given the menu with the price in numerical format without the dollar sign. A dollar sign can be a jarring reminder that you are about to spend money, so removing it can soften that blow.
Offer a high-priced "decoy" item that will make all other dishes seem reasonably priced in comparison
Descriptive adjectives and copy can make an otherwise ordinary dish seem much more appealing. For example, popular burger chain Steak n' Shake refers to its burgers as "Steakburgers" with names like "Texas BBQ Prime" and "Bacon 'N Cheese Double."
Make your most profitable dishes stand out by placing them at the top right of the menu or by placing a dotted border around them
---
14. Invite Food Writers Behind the Scenes
Influential food bloggers and social media personalities are always looking for exciting new content, so extend a personal invitation to a select few to check out your kitchen, meet your head chef and enjoy a meal on the house. With so many people turning to social media to learn about the newest and hottest restaurants, a droolworthy image and positive review from the right influencer can result in a significant boost to your bottom line.
---
15. Door Hangers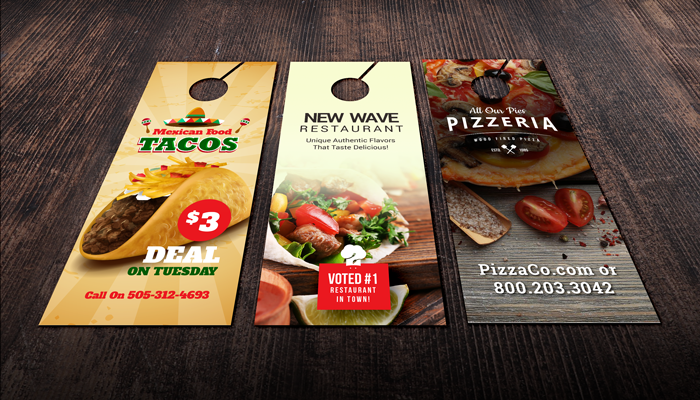 A timeless restaurant marketing method that is still effective. Door hangers are inexpensive to order and you can hire a distribution service to do all the legwork for you. Make your hanger stand out by using a premium paper stock, bright colors and a modern design. If you're hoping for an immediate uptick in orders, include a few discount offers, with the most generous one expiring a week from the distribution date.
---
16. Have a Unique Hashtag
There's a reason we keep talking about Instagram – it just reached the 1 billion users milestone, with at least half of those users checking it daily. Of course, these numbers also mean that Instagram is an increasingly crowded platform and it's not enough to post daily and hope for the best.
One easy way to increase your Instagram exposure is to get your diners to do the work for you. Pick a hashtag that's unique to your restaurant and include it in your social media bios, menus and advertising. Re-post the best customer photos that use the hashtag onto your restaurant's account and pick one winner each month to receive a gift certificate to your restaurant.
---
17. Don't Forget About Pinterest
Although Pinterest's user base is not quite as large as Instagram, it's still substantial at 175 million. With Pinterest users heavily skewing female (81%) and having a higher median age (40) than Instagram, there's a good chance you'll be reaching an entirely different group of people.5
Pinterest also has the advantage of being a desktop-friendly platform, while Instagram is tailored toward mobile users. For this reason, Pinterest images will frequently come up at or near the top of desktop Google searches, giving it a clear SEO advantage.
Not sure what to post? Here are some ideas to get you started:
Pinterest is commonly used for party and event planning inspiration, so post pretty photos of your interior and exterior space, including the dining room, table settings and patio
Post photos of any merchandise such as tote bags, mugs and apparel within a "gifts" or "wishlist" board
If your restaurant serves alcohol, create a cocktails board and share photos of your specialty drinks
People turn to Pinterest for practical tips, so post fun, informative infographics related to the food industry, such as the ideal temperature for cooking steaks or the difference between lattes, cappuccinos, and macchiatos
Create a board for your city or neighborhood and share scenic photos, local attractions and upcoming events
---
18. Table Tents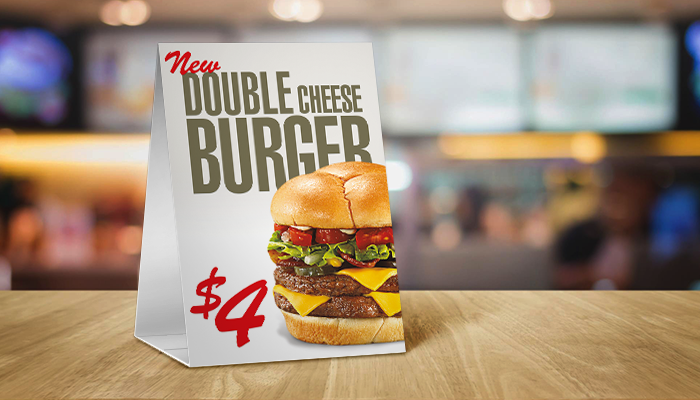 Table tents are perfectly positioned to market to an already engaged (and hungry) audience, so despite how inexpensive they are, you don't want to take them lightly. Place one on each table to highlight whichever drink and food items have the highest margins, advertise your rewards program, or promote your desserts, beer selection, happy hour menu and daily specials.
---
19. Facebook Ads
Facebook ads are a relatively inexpensive and effective tool for increasing local reach. Facebook's ad manager allows you to define your target audience through demographics such as location, age, gender and interests. Spending as little as 50 to 100 dollars a month can reach thousands of people within driving distance, and unlike more traditional forms of advertising, you'll be able to track its impact almost immediately. In order to increase engagement and response rate (which translates into even more impressions on your ad), make sure you include an attractive offer such as buy-one-get-one or free delivery on your first order.
Facebook recently introduced a scannable Messenger code for its business pages, making it easy for Messenger users to scan the code to start a conversation with you. Make sure you check your page (and messages) regularly so you are able to respond to questions and feedback in a timely manner.
---
20. Live Music Nights
Invite local and touring musicians and bands to perform at your restaurant. Many emerging musicians will love the chance to perform at your venue and you will always be able to provide a new and unique dining experience for your customers. You can also provide incentives to the artists to invite others to watch them perform, such as half-off drinks for their guests.
---
21. Mini Menus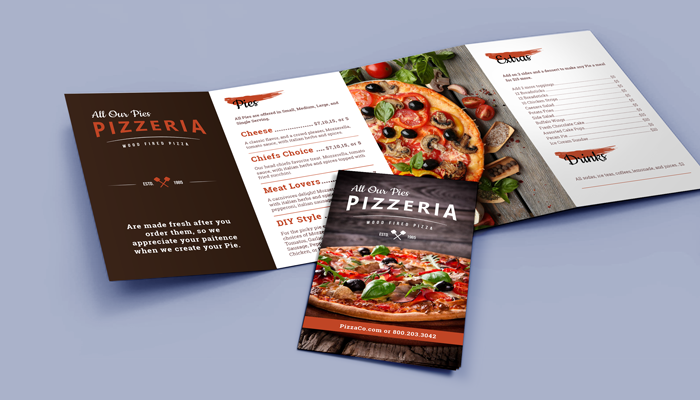 Mini menus are petite 4-panel 4" x 10" menus that measure just 2.5" x 4" when folded. Also called pocket menus, they are ideal for food trucks, coffee shops and juice bars. Restaurant owners also love using these for mini happy hour menus or mini dessert menus that are placed on each table – your customers won't be able to resist looking through them!
Mini menus are easy to tear apart, so they make great mini coupon books. We recommend including one in every delivery or take-out order as a memorable alternative to traditional brochures.
---
22. Free Custom Stickers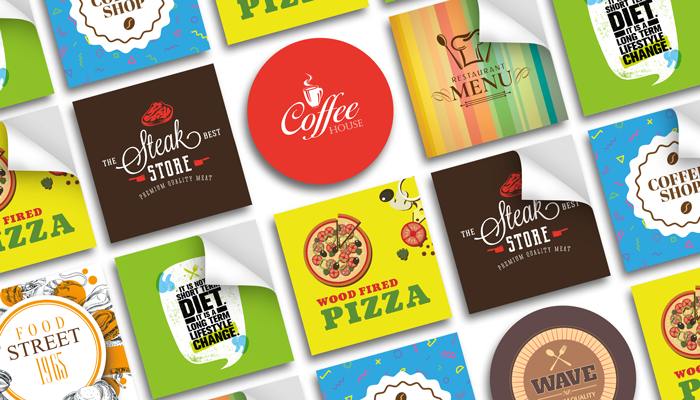 Show your appreciation to your diners by including free custom stickers with the check (ideally one for each person in the group). The stickers should be high-quality and visually appealing so that recipients will be more likely to apply them to laptops, cars, cell phone cases, water bottles, etc. Your stickers will act as powerful personal endorsements without them having to say a word! Make sure to change your sticker design regularly so they become fun collectibles for your best customers.
Sources:
[1] Toast: https://pos.toasttab.com/blog/restaurant-management-statistics
[2] Open Table: https://go.opentable.com/rs/531-AOS-877/images/OpenTableTechnologyAndDiningOut2015l.pdf
[3] Restaurant Business: http://www.restaurantbusinessonline.com/consumer-trends/4-foodservice-trends-driven-millennials
[4] New York Times: https://www.nytimes.com/2009/12/23/dining/23menus.html
[5] Omnicore: https://www.omnicoreagency.com/pinterest-statistics/