You've launched your very own business, congratulations! You're on your way to financial success and bettering your customers' lives through the products you offer. However, now that you have begun this venture, there is one hiccup – to get your business moving, you will have to invest a large sum of money on the front end to get a greater return in the future.
Because starting a business can be extremely expensive, many owners don't properly build foundations that allow them to make the kind of profits they're looking for. In fact, a few wrong decisions could lead to a financial crisis that may be hard to reverse. To help you properly build your money cache, we have compiled a list of important decisions you can make that will guide you to significant savings and help you give value to your customers.
---
Make Technology Your Ally
The world is becoming more digital, which means you should carefully examine what types of technology to implement in your business. The right technology provides even more opportunities to save time and money. Here are some innovative options to consider:
1. Use Cloud Services – Consider going paperless and not shoveling money into expensive software you may not need. Using cloud services from established companies means less storage space for paper forms, easier access to all of your documents and high security for any confidential papers you may have. Google Drive, for example, has much of the same functionality as pricey office software for just a fraction of the cost.
2. Go Mobile – More and more companies are offering services through phone apps, providing you the convenience of business management from virtually anywhere. Now you can even bank on the go with mobile services such as Chime, which also offers automatic savings accounts to help you save more money!
3. Focus on Social Media – Social media gives you a platform to not only enhance B2C relationships but also improve word-of-mouth marketing. Social media is generally free to post, but if you want to ramp up its effectiveness, advertising tends to be relatively inexpensive compared to more traditional methods. Social media makes it easy to tailor your approach to different audiences, some of which are increasingly difficult to reach otherwise.
4. Create Your Own Website – Not having a website for your business can dramatically reduce its chances of success, as customers are increasingly going online to find new products. Thankfully, there are many cost-efficient options for buying your own domain and creating a website yourself, without having to hire a web designer.
---
Choose a Location that's Right for You
The location of a business can affect many aspects of how you operate day-to-day. While picking the right spot may seem obvious, it's not as easy as you'd think. A lot goes into your choice of location – choose the wrong one and you could lose hundreds (if not thousands) of dollars that you can spend elsewhere. Here are a few things to think about when finding your spot:
1. Size and location – A building in a downtown location generally costs more than a comparable building in a suburb. And of course, the bigger the space, the more expensive it will be, so find a balance between a space that is not too large for its purpose but also has a little room for you to grow.
2. Research utilities – Some counties and cities will have higher utility rates than others, and utility bills can add up! Research ways to cut back on utilities, such as buying smart thermostats to control electricity used for AC. You could also look for a building that invites natural light, further cutting down on your electric bill.
3. Pay attention to travel – The farther you are from your customers or vendors, the more you pay for travel. To reduce travel expenses, buy a space closer to vendors, hire an employee specifically for travel, or partner with companies that will barter with you on certain necessities.
---
Hire Employees Carefully
Workers will be your biggest expense in both time and resources. It's crucial to only hire as many employees as you need and try to keep high-performing employees on your team for the long term. Again, this a large portion of your budget, so:
1. Outsource – Sending work to other companies means you won't spend time hiring, spend money on benefits, or worry about any employee problems that may arise.
2. Ask family and friends for help – Ask trusted friends and family members to help with important aspects of your business, such as bookkeeping and accounting. You personally should take on as much as you can handle, but don't overwhelm yourself.
3. Find the right people – Most companies look for employees that have a lot of experience and knowledge in their industry. Hiring this way is wonderful if you have the budget for it; a person with experience will require a much higher salary than someone without. A solution would be to hire recent college graduates. Though they may not have the experience, they have open minds and are eager to learn on the job.
---
Take Advantage of Tax Credits
The government incentivizes business ownership through tax credits. A tax credit is the amount of money that can be offset against a tax liability. The government wants you to own a business, and therefore will offer qualified business owners a reduced amount of taxes come tax season. Some credits include:
1. Travel – you may receive credit for business traveling expenses you incurred throughout the year (wear and tear on your car, gas, and even lodging)
2. Equipment – depending on your business, the government may count materials you need to operate the business, such as computers or even your car
3. Energy-Efficiency – the government loves businesses that increase their energy-efficiency. The more you convert to energy-efficient technology, the more you might get back on your return
Those are just some examples of tax credits – be sure to check with an accountant on which tax credits apply to your business. It's important to file your taxes accurately every year and keep track of all your necessary expenses to maximize your return.
---
Market Yourself Through Print & Design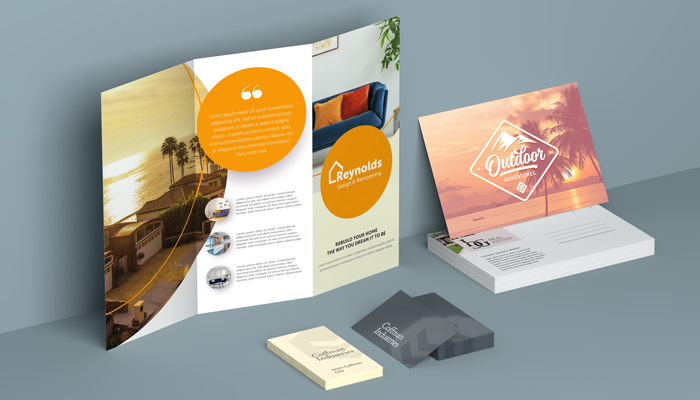 At GotPrint, we offer affordable print and design services to help you grow your business without breaking the bank! Some of our great values include:
1. Business Cards – 500 custom business cards start at just $8.50! This small investment will allow you to pitch your services to everyone you meet.
2. Banners – Whether you're announcing a grand opening, new merchandise, or special event, our budget-friendly vinyl banners can help you draw in passersby and increase sales.
3. Mailing Services – We have a wide range of cost-effective design, print, and mailing services so you can reach thousands of qualified customers at once. Learn more about our EDDM® and direct marketing packages or call us at 1-877-922-7374 (option 3) to get started.