Nowadays, there really is no such thing as a "typical wedding." As weddings become increasingly personalized and unorthodox, brides and grooms can spend weeks searching for the perfect wedding invitations to capture the spirit of their upcoming ceremonies. More and more engaged couples are even going the extra step and printing their own!
By designing your own wedding invitations, you have complete control over the wording, layout, color combinations, and paper stock – and, in most cases, save quite a bit of money as well! To get started creating the wedding invitation of your dreams, check out our roundup of brilliant – and FREE – wedding invitation fonts to complement the most popular stationery styles and themes.
---
1. Josefin Sans Font
Recommend for modern and contemporary wedding invitations.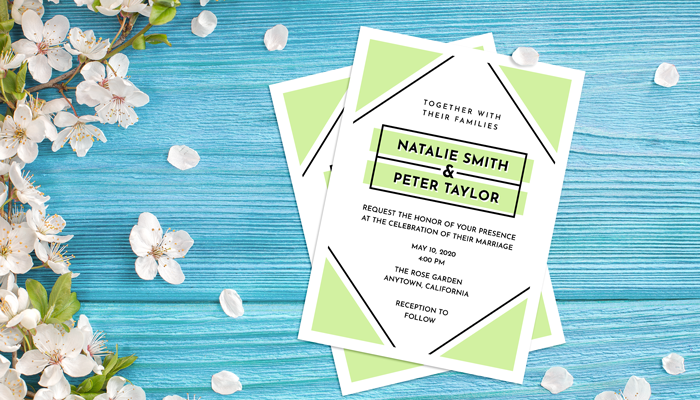 Modern wedding invitations are often categorized by clean lines, fresh color palettes, and a noticeable lack of flourishes and embellishments. For the card pictured above, we chose Josefin Sans, a simple, unadorned san serif font, to match the geometric-inspired design.
---
2. Dancing Script Font
Shown with Source Serif Pro font. Recommend for illustrated and watercolor wedding invitations.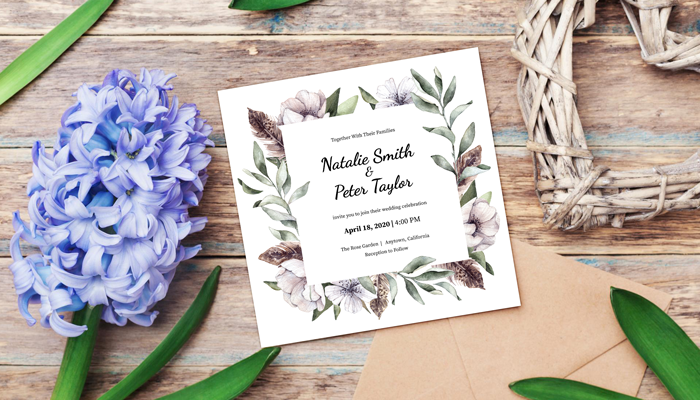 There's something about a hand-drawn wedding invitation that feels extra personal. When it comes to picking fonts to pair with your illustrations, a pretty yet neutral font such as Dancing Script won't compete with your artwork.
---
3. Sail Font
Shown with Josefin Sans font. Recommend for calligraphy wedding invitations.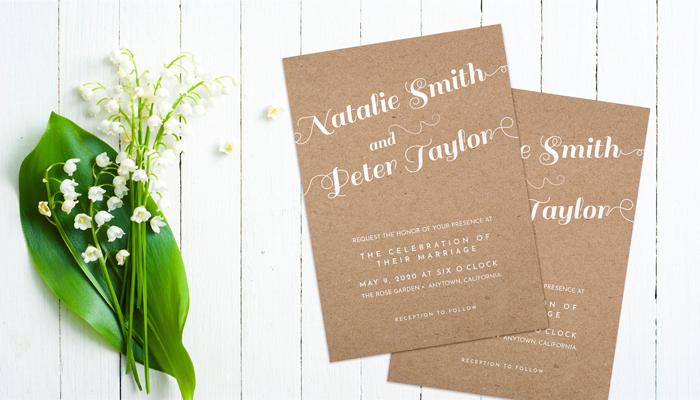 Sail is a bold calligraphy-inspired font that will give your wedding invitations a dash of romance! For a more current and playful feel, add a bright splash of color to the text or background.
---
4. Aleo Font
Shown with Rochester font. Recommend for minimalist wedding invitations.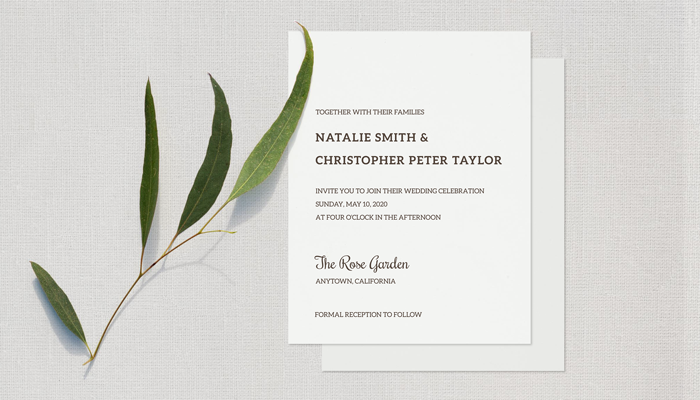 Sometimes the simplest wedding invitations are the most striking. An uncluttered design printed on a premium paper stock exudes confidence and style. We chose the font Aleo in the above design for its sleek and strong appearance.
---
5. Limelight Font
Shown with Aleo font. Recommend for art deco wedding invitations.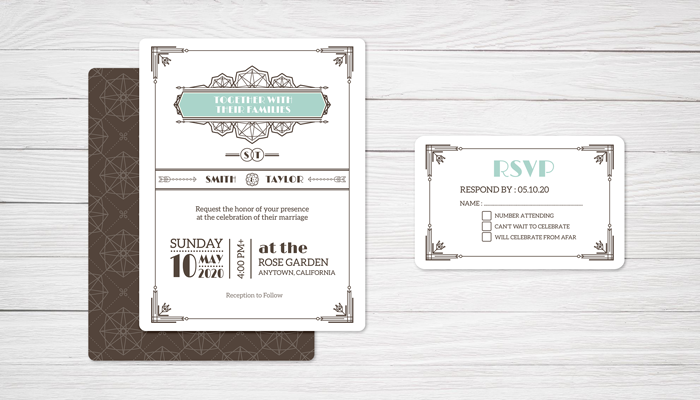 If your wedding theme is taken straight from the pages of The Great Gatsby, an art deco invitation is the way to go! You'll be the center of attention, so don't be shy about using the appropriately-named Limelight font on your invites to make a dramatic impression.
---
6. Lobster Two Font
Recommend for whimsical wedding invitations.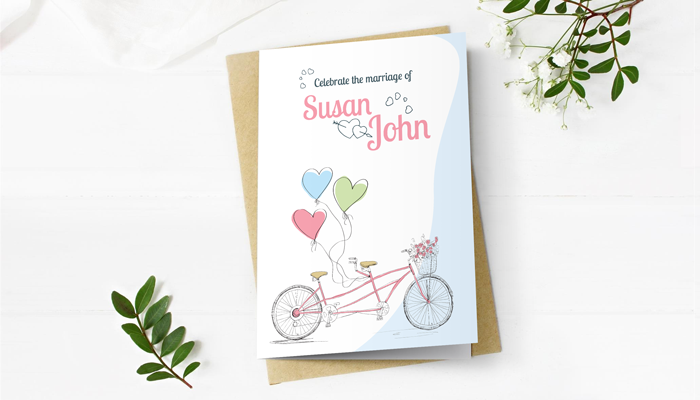 Delight your guests with charming wedding invitations that reflect how much fun the two of you have as a couple. The Lobster Two font, featured on the cover of the folded wedding invitation above, sets the tone perfectly for a sweet and enjoyable ceremony.
---
7. Objectivity Font
Shown with Rochester font. Recommend for tropical and destination wedding invitations.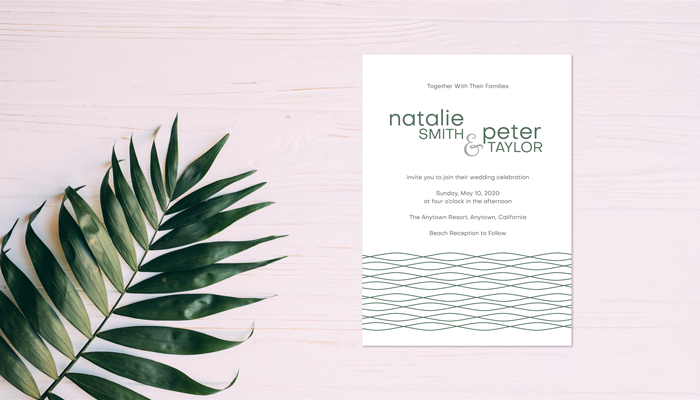 A destination wedding stationery suite will often have several additional elements, such as a travel information card, map, and itinerary. A versatile sans serif font like Objectivity will keep all that text easy to read while giving your invites a refreshing, beachy feel!
---
8. Biorhyme Font
Shown with Lobster Two font. Recommend for rustic wedding invitations.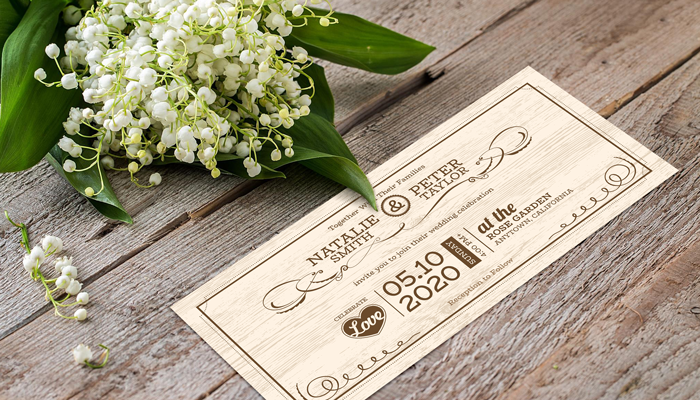 It's hard to imagine a more serene backdrop for an outdoor wedding than an idyllic countryside-inspired venue. Kick off the festivities with invitations that incorporate rustic elements such as a wood-grain pattern and a sturdy slab serif font like Biorhyme.
---
9. Great Vibes Font
Shown with Cambria font. Recommend for formal and elegant wedding invitations.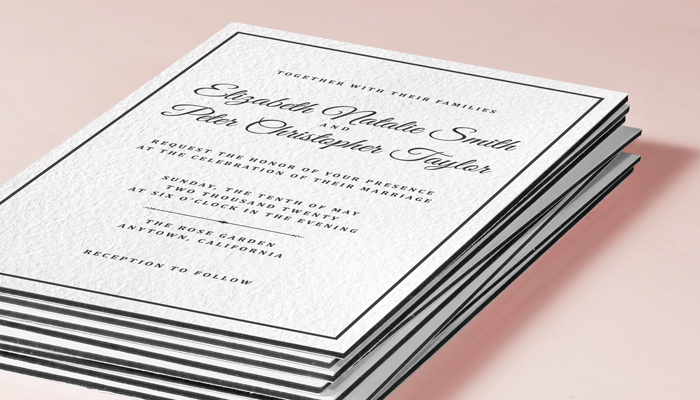 A luxurious black-tie wedding calls for an invitation that is both chic and understated. We used Great Vibes, a stylish, not-too-ornate font, and our ultra thick Trifecta Black paper stock for the design shown above.
---
10. Source Serif Pro Font
Recommend for vintage and retro wedding invitations.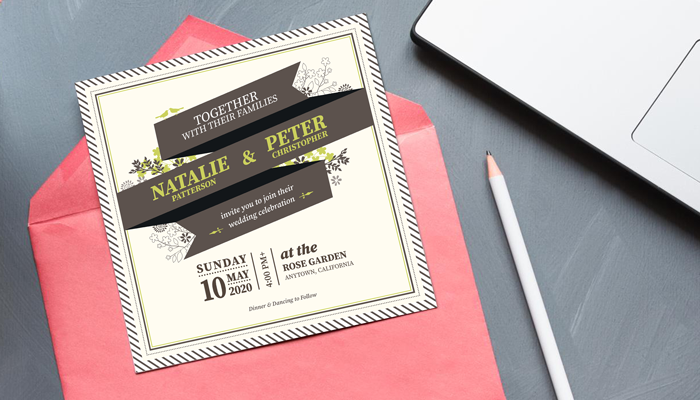 A vintage-inspired wedding is as much fun to plan as it is to attend! In-between shopping at antique shops for wedding decor and vintage clothing stores for bridesmaids' dresses, design a retro-themed invitation using the timeless font Source Serif Pro to evoke a sense of happy nostalgia.
---
11. Butler Font
Recommend for nautical wedding invitations.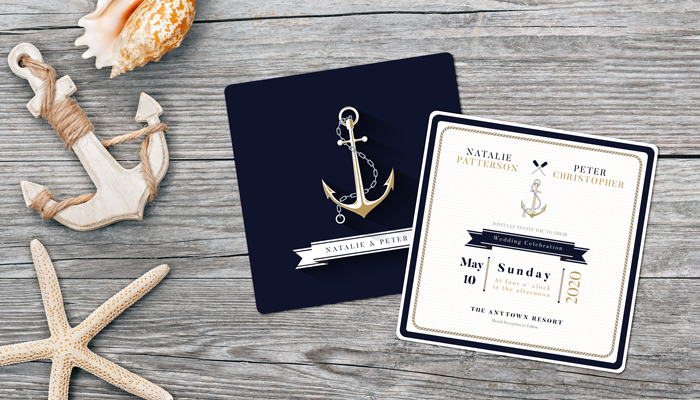 There's nothing quite like a soft ocean breeze, which makes a seaside wedding celebration all the more special. A preppy navy design will immediately bring to mind visions of sand and sailing, especially when paired with a fittingly crisp font such as Butler.
---
12. Sofia Font
Shown with Aleo font. Recommend for floral and garden wedding invitations.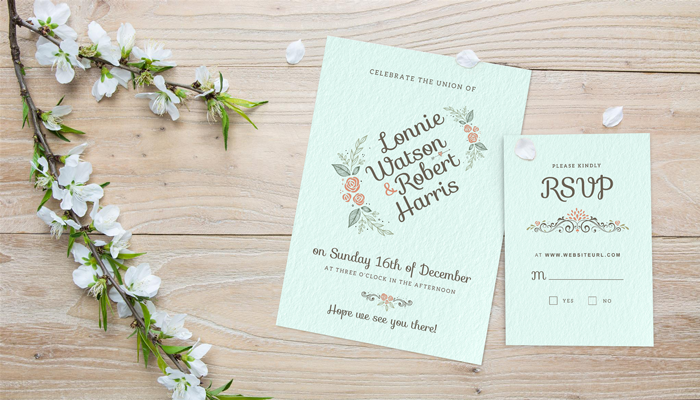 An ethereal wedding invitation complete with floral motifs and a lovely script font is the perfect introduction to a romantic garden wedding. For the design above, we chose the font Sofia for its glamorous yet approachable aesthetic.
---
13. Scheherazade Font
Shown with CAC Champagne font. Recommend for traditional and classic wedding invitations.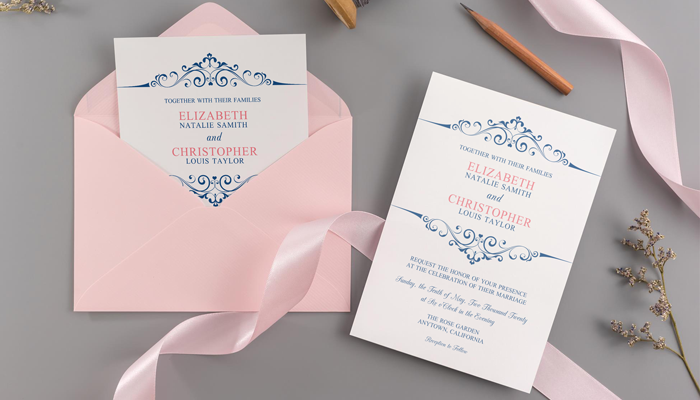 Whether or not you choose to have a themed wedding, you can't go wrong with a time-honored, traditional design. Here, we combined two popular wedding invitation fonts, Scheherazade, a classic serif font, and CAC Champagne, a polished script font, for added impact.
---
14. Milkshake Font
Shown with Josefin Sans font. Recommend for backyard and informal wedding invitations.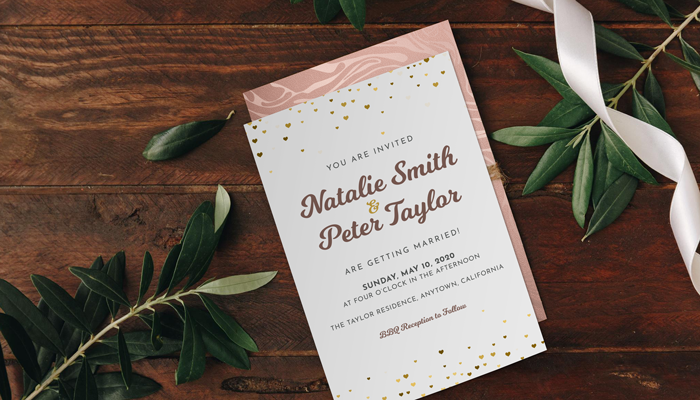 Casual weddings have become increasingly popular, as they tend to be more relaxed and comfortable for both the wedding party and the guests. Since an ultra-fancy wedding invitation is not quite compatible with a laid-back ceremony, have fun with a more lighthearted yet substantial font like Milkshake.
---
15. Libre Baskerville Font
Shown with Great Vibes font. Recommend for photo wedding invitations.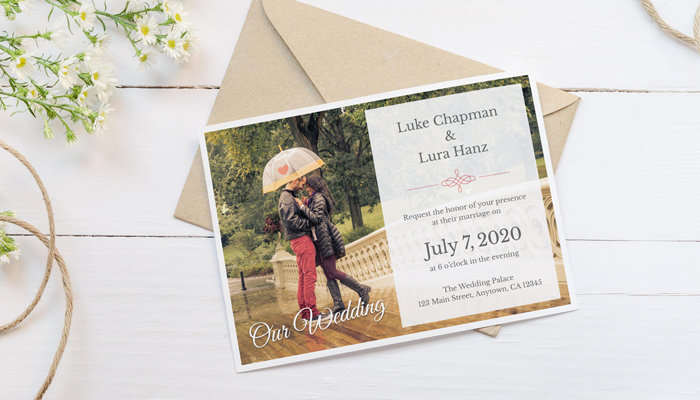 It's easy to design a wedding invitation with lots of bells and whistles, but it doesn't get much more personal or memorable than incorporating a photo of the happy couple in the design. Pair the photo with a classic font such as Libre Baskerville.