In a digital world, most of us rely on devices that fit in the palm of our hands in both our personal and professional lives. We know the importance of having a platform that allows you to work quickly where it matters the most. In our case, it's the idea of having the ability to print from anywhere, especially if you're running a business and don't have time to order on a computer. That's why, for the past 4 years, we've been developing something extremely beneficial for our brokers. Because of print demand, we knew this project was something we had to prioritize.
If you're one of our brokers, or if you have a desire to be, then stay put and read on, because this news is just as important to you as it is to us! Previously, the POG app was a simple tool brokers used to track the progress of their orders. Now? We're in a whole different league. We're proud to finally announce the launch of the NEW & IMPROVED POG Mobile app, with exciting new features that'll have you running to the App Store. (And if you're not a broker, don't worry, we have an app for you, too. Download the popular GP Mobile App on iOS today!)
The following factors are what you have to look forward to when you download the POG app on iOS:
1. Browse Products
The ability to print from your phone was one of the top priorities we had envisioned for this app. Just like the website, the app gives you a clear breakdown of products, so that you can order your favorite products with ease. We provide you with a straightforward layout of product specs, paper stocks, and pricing that is consistent with the POG website. If there's a product that you don't see on the app, fear not – we're still in the process of adding more products for your convenience.
2. Upload On-the-Go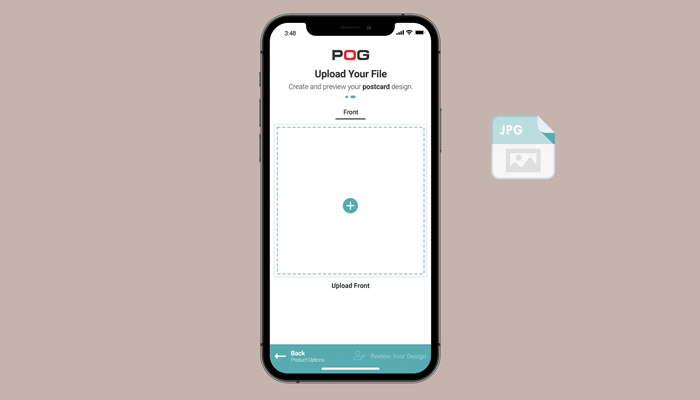 A quick, ultra-responsive process. Simply pick your product, tap to choose your orientation, swipe to see every available size, select your paper stock while comparing prices, and upload your design in a matter of seconds.
3. Request a Quote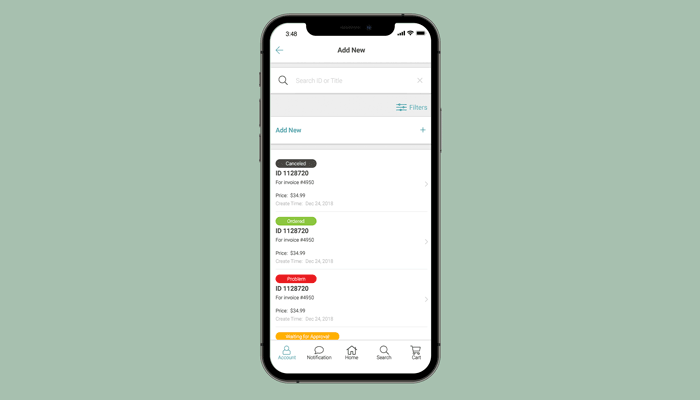 Not seeing what you need? Request it! Yes – you read that correctly. You don't need to log onto your computer. You can now request a quote for a special project you'd like printed directly on the app.
Note: This only applies to products we don't already sell on our website. If you don't see a product on the app that can be found on our website, please then head to your desktop to place an order rather than requesting a quote.
4. Speedy Checkout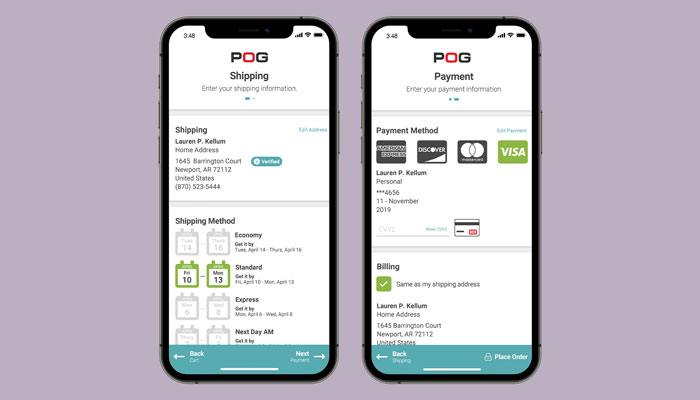 Once you sign in to the Printograph app, all of your stored information, including shipping and billing address, and preferred credit card information will be pre-selected for a quick, hassle-free experience. The hardest part is waiting patiently for your order to be delivered!
5. Push Notifications
Turn on notifications to receive the latest updates on your order, straight to your phone. Also, be sure to keep an eye out for new promos and discounts listed directly on the app.
---
This new & improved POG app was especially important for the app development team, who has worked meticulously for the past few years to make this app launch a success. We asked two of our colleagues who worked on the app to reflect on both the difficult and rewarding factors when it came to developing the app.
"One of the challenges in re-designing the POG app was to make sure we could deliver essential features utilized by brokers on the website, while also designing a user-friendly interface that can be easily navigated on-the-go. The most gratifying aspect of the entire process was knowing that brokers can now use the app to a much greater extent, with the new features, than the previous versions."

Arnold D., UX Designer
"One of the challenges was figuring out what aspects would be more important to brokers, while at the same time making the usability of the app easier and more straightforward. It was satisfying to work towards the transformation of taking the major aspects of a website and simplifying them into a user-friendly flow for mobile devices."

Danilo D., UI Designer
---
As we said earlier, you don't have to be a broker to gain access to printing on the go. If you didn't already know, the GotPrint mobile app has been out for some time and has most of the same useful features as the new Printograph app. It even includes a quick mobile designer tool you can use to create your design directly on your phone or tablet. You can print products like business cards and yard signs with just a few easy taps.
Both the POG and GP Apps are far from being finished, as we're constantly working to improve both the usability as well as the features of each app. We're working towards both apps being available for download for Android devices as well. Stay tuned for more news and updates!
If you have any feedback, please email all suggestions to app@gotprint.com.