Are you a recent college grad? If so, congratulations – and welcome to the exciting world of job hunting! After years of being in school, with the familiar routine of lectures and homework, the idea of job applications, interviews, and significantly increased responsibilities can seem nerve-racking. There are so many questions you will have, such as what to put on your resume, what type of jobs you're qualified for, and what to say during interviews.
Although these concerns are natural, the odds are in your favor. Overall, those with Bachelor's degrees have a lower unemployment rate than high school graduates or those with some college/Associate's degrees.1 That said, it takes new college graduates an average of 3 to 6 months to find employment2, which can be especially frustrating when you have student loans to pay.
Thankfully, there are a few easy steps you can take to vastly improve your chances of finding a full-time job sooner than later. It's not uncommon for each job opening to receive hundreds of applicants, so these tried-and-true tips will help give you an edge over your peers.
---
Tailor your cover letter and resume to each job
Most new college graduates don't have extensive employment histories, making it difficult to write a full-page resume. Don't worry, employers hiring for entry-level positions don't necessarily expect you to have previous work experience. Include any work experience in your resume if you have it, but you can also stand out by listing a strong GPA, leadership roles you held in college, awards/scholarships you received, and any technical skills you have.
If you have held several jobs or internships prior to graduation, don't feel compelled to list them all on your resume, especially if some of the jobs were temporary/short-term. Rather, list only the experiences that relate to the job you're seeking or demonstrate a pattern of teamwork, reliability, and problem-solving.
The cover letter is your chance to sell yourself as the perfect person for the job, so don't use a one-cover-letter-fits-all strategy. Although it takes a little more time, it's worth writing unique cover letters for the positions that most appeal to you. Make it clear that you've read the job description by describing how your experience and skills match the employer's needs. For example, if the employer is looking for charismatic sales professionals, feel free to mention how your involvement in various campus activities made you incredibly adept at connecting with others.
---
Prepare responses to common interview questions
Ask friends or family members with hiring experience to conduct mock interviews with you, and get their honest feedback on your answers and general demeanor. Rehearsing your responses in advance can make a big difference in how comfortable you are during those first few interviews.
Here are some questions you'll hear over and over again, and the best ways to answer them:
Tell me about yourself.
Okay, technically this isn't a question, but nearly all interviews start off with this request. Avoid talking about personal topics or interests that don't have anything to do with the position. Rather, keep the answer professional and stick to talking about why you're qualified to take on this role. If you have no previous work experience, give examples of notable academic achievements and challenging extracurricular activities that you pulled off through hard work and determination.
Why do you want this job?
The interviewer is trying to make sure you want the position that is advertised and not that you're just trying to get your foot in the door of the company or just want any job at all. Pull 2 to 3 responsibilities from the job description and explain why they appeal to you, as well as how you see the position benefiting your career in the long run.
What are your strengths?
Many people give generic responses like "I'm a fast learner" or "I get along with everyone." Impress the interviewer with examples of how your degree and experience translate into real-world skills, such as "Majoring in Math prepared me for working with a high volume of data" or "My time as student body president sharpened my negotiation skills."
What are your weaknesses?
This may be one of the most dreaded questions ever, but it doesn't have to be difficult to answer. Your response should be something that won't affect your ability to do the job, followed by an explanation of how you're overcoming the weakness. For example, if you're applying to be a lab technician, it might be safe to say you're not great at public speaking, but you're making more of an effort to do so at social gatherings. On the other hand, if you're applying to be a traveling sales rep, the interviewer might be pleased to hear that you hate being stuck in an office, so you're looking for jobs that allow you to be on the road.
Where do you see yourself in five years?
When answering this question, focus less on position title and more on the career skills you hope to obtain and how they will benefit the company. For example, you may want to improve your project management skills and gain leadership experience so you can play an integral role in the company's expansion. The interviewer is trying to assess whether you have long-term potential with the company or will leave the first chance you get.
---
Remember, you're interviewing the company as well
Many people hesitate to ask questions during interviews, since they want to come across as agreeable and easy to get along with. Keep in mind, however, that if you accept a full-time job, you are committing to 40+ hours a week with this company. It's in your best interest (and the company's) to make sure this is a good fit. If an interviewer seems annoyed by your questions, that alone should serve as a red flag.
Once you've scheduled an interview, do as much research as you can by checking out the company's website, Glassdoor reviews, and social media accounts. This will a) give you valuable insight into the company culture, b) help you form questions to ask during the interview, and c) help you avoid asking any questions with obvious answers (e.g. asking the name of the CEO, if the answer is on the website).
Need a little inspiration? These are some of my favorite questions to ask during interviews:
Why is this position open?
What are some of the challenges associated with this position?
What does it take to be successful in this position?
What do you like about working for this company?
Do you have any concerns about hiring me that I can address?
The interviewer's responses will give you a feel for the company culture, performance expectations, and advancement opportunities, which can help you make a more informed decision about whether the position is right for you.
---
Acquire new skills with online classes
Although a Bachelor's degree is valuable for developing "soft skills" (e.g. time management, critical thinking) and technical skills, your college education probably didn't cover many of the requirements and qualifications companies are looking for in their employees.
Thankfully, there are plenty of affordable online classes that can help you stand out in a crowded job market. Study the openings in your field to see what practical skills you still need; chances are, there's a course out there that can help you become a self-taught expert. Some of our favorite resources include:
LinkedIn Learning – short courses covering everything from HTML Essentials to Marketing on Instagram
Duolingo – this free website/app makes it fun to learn a new language in just a few minutes a day
YouTube – when I'm trying to figure out an Excel formula or Photoshop trick, video tutorials are my go-to source
Udemy – connects students with qualified instructors that will teach you to code, take amazing iPhone photos, and more
---
Set up a LinkedIn account and/or online portfolio
LinkedIn has proven to be a powerful tool for networking and recruitment. Setting up an account only takes a few minutes and allows you to stay connected to fellow alumni and colleagues. You never know down the line if they'll want to recommend you for their company or vice versa.
If you're looking for work in creative fields like writing or design, set up an online portfolio where you can showcase various projects. Post the link in your email signature and on your LinkedIn/social media profiles. A strong portfolio will give your application an edge and can even lead to lucrative freelance work.
---
Clean up your social media accounts
Having some online presence, like the aforementioned LinkedIn account, is better than none. However, not managing your online reputation can hurt your career more than you know. A 2018 CareerBuilder survey revealed that 70% of employers research potential candidates on social media and of those employers, 57% found something that caused them not to move forward with a candidate.3
Of course, there are some positions, like social media specialist or brand ambassador, where having an active social media presence is a plus. If you're applying for a high-profile position, consider having separate professional (public) and personal (private) accounts and/or removing anything that might make potential employers hesitate to hire you (e.g. photos depicting illegal activities, offensive jokes, etc.).
---
Be prepared to pitch yourself at anytime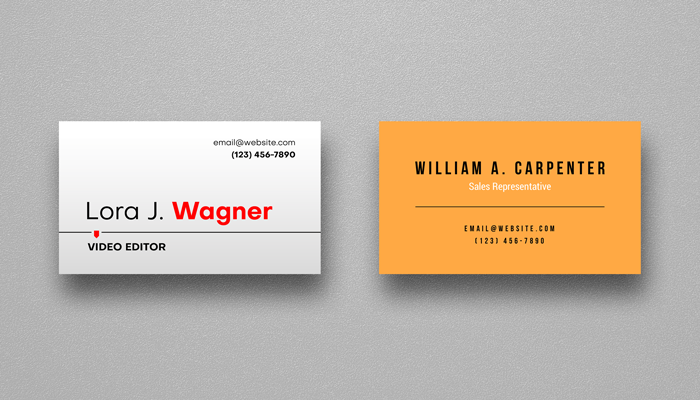 Sometimes an amazing opportunity presents itself when you least expect it – Sheryl Sandberg and Mark Zuckerberg famously met at a holiday party, with Sandberg leaving Google soon after to join Facebook. CEOs and executives can recognize talent when they see it, and a great conversation can leave them wanting to learn more about you.
Make it easy for potential employers and recruiters to follow up with you by carrying professional business cards everywhere you go. Feel free to include a generic job title like "UI/UX Designer" as well as your contact information and website/LinkedIn URL.
---
Apply to your dream companies
Don't be intimidated to apply to your dream companies – just like any other employer, they are looking to hire intelligent, capable employees with a passion for their products or services. Check their career pages for open entry-level positions, and even if none of them are an exact match, feel free to send them your resume anyway! Your enthusiasm for the company will shine through in your cover letter and that alone can be enough to get you an interview.
Remember, this is just the beginning of your career, and it will take some time (and a few jobs) to figure out what it is you want and don't want in a long-term career. In the meantime, focus on getting experience, learning as much as you can, and making valuable contacts at every company you work. Over time, you'll gain the self-awareness and confidence you need to craft a career you'll love.