If you're traveling to Atlanta anytime soon, may we suggest checking out Atlanta's Best Bites as the starting point for planning your trip? We first came across Sarah Puett's drool-worthy Instagram account when she turned to GotPrint to order custom business cards and stickers. We loved how the final products turned out – our triple-layered Trifecta business cards and high-quality glossy stickers perfectly captured the fun, polished feel of her brand!
Since we first connected with Sarah several months ago, we have been impressed with how much Atlanta's Best Bites has grown due to her passion, creativity, and hard work. Sarah kindly agreed to chat with us about what it's like to be a successful food influencer and how GotPrint helps her make a positive impression as she networks with chefs, restaurateurs, and fellow foodies.
---
How did you get started, and how did you build your following?
I began Atlanta's Best Bites (ABB) when I found myself taking pictures of every single thing I ate and feeling the need to give all my friends restaurant and food recommendations in Atlanta. My friends would tell me for years that I needed to create a separate social media space dedicated just to the food I indulged in because I had such a passion for it and had so many photos that I could share with my local Atliens. I have always had a special love for food – the way it connects people, the way we can learn so much about other cultures from it, and the way it allows us to sit down, talk, and get to know one another in a more intimate way.
My parents owned a local pizza restaurant in my hometown for many years when I was younger, and I then found myself working in the restaurant and hospitality industry from about 15 years old until I was 22. While working at various restaurants back in my hometown, I began snapping photos of food so that I could create social media accounts for these small-town restaurants and have some photos for locals or tourists to reference when visiting or planning a trip to our restaurant. That's where it all began. I also worked at a local Chamber of Commerce and Visitor's Center while in college and learned quite a bit about the consumer mindset, how to attract visitors to a destination, and how to encourage repeat visitation.
Once I moved to Atlanta, I needed some outlet for those passions and interests of mine. My then hobby of visiting local restaurants, scouting out holes-in-the-wall, and learning about the Atlanta food and drink scene turned into more than just a hobby and developed into ABB. Through ABB, I have used my positive influence to inform Atliens, friends, and visitors of my city of what I call some of the "best bites" in Atlanta. I have built my following on social media by being transparent, positive, and staying true to who I am. I allow people to see the real sides of Sarah – goofy, sometimes awkward, silly, happy, totally imperfect, and a lover of exploring all things food and drink.
---
What do you think people would find most surprising about being a food influencer?
I think people would not believe how challenging it is to control yourself when it comes to what you eat. Haha! People ask me all the time, "how do you eat so much and stay so skinny?!" I do not believe I am "skinny" by any means, but it is challenging to be a true lover of food and to not eat everything in sight. I love working out and being active, but I love food just as much. It's therefore a constant challenge trying to stay trim, strong, and feel great physically, while also trying all kinds of different (and mostly unhealthy) foods on a regular basis.
Once things start getting busier as a food influencer and you get more and more opportunities to eat food at different places, you HAVE to start controlling what you eat or you will not only gain a lot of weight, but you will feel sluggish, lethargic, and just gross – haha! It has happened to me one too many times. When I first began doing this, I would eat every last bite because it was so amazing to have the opportunity to try delicious food that I never had access to before. Now, I have to control my portion sizes more. I am still just as utterly grateful for every opportunity and every bite as I was when I started, but I have to respect my body and my health. I never waste anything, and if I simply feel that I cannot finish something, I either give the leftovers to a friend or to the homeless.
---
How do you use GotPrint products and services to promote your brand?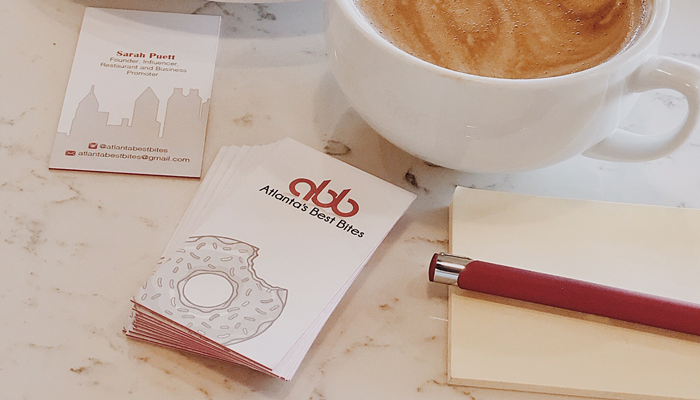 I have been using my GotPrint business cards for a little over six months now to promote Atlanta's Best Bites! I LOVE my GotPrint cards, and everyone who has ever seen them or taken one from me has loved them as well. I get questions all the time – "oh my gosh, these are so nice, where did you order these from!?" My cards are thick with a velvet finish, which always impresses people. They have a doughnut on the front with a bite taken out of it – iconic of myself/Atlanta's Best Bites because doughnuts are one of my favorite things ever, and the bite taken out of the doughnut perfectly signifies ABB. The Trifecta Red Triple-Layer adds a unique touch that I don't see on most business cards. Ever since I received my cards in the mail, I have been encouraging my blogger friends or friends who own businesses to place an order from GotPrint and see the quality for themselves.
---
What distinguishes GotPrint from other printing companies?
GotPrint is different from other printing companies in that it offers competitive pricing without comprising quality. For example, I got a large order of 250 business cards that are thick cut, velvet finish, and just all-around amazing quality for much cheaper than I could have gotten less-impressive cards from other companies. Also, GotPrint makes the process of creating materials online so easy, with a step-by-step process and explanations of what everything means.
---
How would you like to see Atlanta Best Bites grow over the next few years?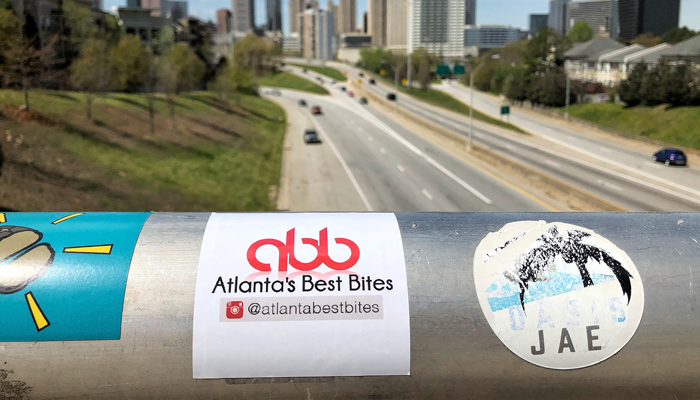 I would love to see Atlanta's Best Bites turn into one of the major food + drink guides in the city. It has always been a positive platform where people can go to find only what I call great food (no negative reviews or food-critic stuff), and I want it to continue to serve as a place where people can pick out restaurants, bars, or local caterers to try out and feel confident that they will love them just as much as I do. I want to grow my presence on YouTube in the new few years and to create an amazing website for ABB which contains lists of the best tacos in Atlanta, the best burgers in Atlanta, and so forth. I just want to make the process of people finding amazing restaurants that fit all their criteria easier for them because they are using my resources. I believe if I continue to be myself and put forth all the effort that I have been into my brand, it is only up from here!
---
What 3 restaurants would you recommend to anyone visiting Atlanta for the first time?
If you're visiting Atlanta for the first time, you HAVE to check out these 3 restaurants!!
Simon's Restaurant – delicious Southern cuisine with global flavors, awesome happy hour deals, great cocktails, and great vibes in the heart of Midtown (Chef Robert Butts is killing it over there). You'll find dishes like their award-winning short rib, delicious vegan spaghetti squash, crispy chicken wings, and perfectly cooked scallops.
Poke Burri – sure, poke and sushi-inspired food may not necessarily scream "Atl" or "the city of hip-hop music and soul food," BUT Poke Burri is a must-try and one of my favorite places for food in the city!! Tucked away in a little food hall in East Atlanta Village, Poke Burri is probably the most innovative restaurant in Atlanta, which I believe captures the current feel of our city – a drive to expand, grow, learn, and become better all the time. They serve things like sushi doughnuts, sushi burritos, sushi corn dogs, one of the best poke bowls in the city, and more. Oh, and making a trip to East Atlanta Village gives you a chance to check out some of Atlanta's most iconic street art.
El Rey del Taco – arguably the best Mexican restaurant in the city. You HAVE to go here! They serve up my favorite tacos, the most delicious chips & salsa, and unbeatable parrilladas, quesadillas, guacamole, queso, (strong) margaritas, and much more! Plus, they're open super late, so you can head there after a night out in the city.
Thanks, Sarah, for being such an enthusiastic supporter of GotPrint! We wish you the best as you continue to build Atlanta's Best Bites into an incredible resource and brand.