Love is in the air, and wedding season is finally upon us! With things slowly returning to some sort of normalcy, we're certain that everyone who either had to postpone their wedding due to the pandemic or recently got engaged is particularly looking forward to their very important day. This one special day requires plenty of planning, budgeting, and attention to detail; it's exciting, but it can get overwhelming very quickly. We're here to lend a hand in one important aspect of the big day — let us help you create your perfect wedding suite!
What is a Wedding Suite?
A wedding suite consists of the stationery sent to all of your guests — the main components are an invitation, usually in the form of a postcard, an RSVP card, also in the form of a smaller postcard, an envelope (pre-stamped and addressed) to return the RSVP card, and an envelope for the entire set. There are extras you can include, but the pieces that are absolutely essential are the 4 products mentioned.
Invitations are usually printed on two popular postcard sizes – either 4" x 6", or 5" x 7". The size really depends on your personal preference and how room you need for all of the necessary information. The best part is, you can use both sides of the postcard, so you really don't need to go any larger than a 5" x 7" postcard.
What to include on the invitation:
Names of couple getting married
Date
Time
Address
Dress code
Any other additional important details for the special day
The most common size for an RSVP card is a 3" x 5" horizontal postcard. You can also go smaller than this
What to include on the RSVP card:
A date to RSVP by
A long blank line where guests can write out their names
A place to select either "Happily attending" or Regretfully declines" (you can include whatever verbiage you'd like, as long as you give guests both options.
Meal preference selection (if applicable) — this applies to those who will need to know their guests' meal preferences ahead of time
If you have a limit to how many guests you'd like to invite, whether that's because your venue has a capacity, or you've budgeted for a set amount of people ahead of time, you can easily include a line on the RSVP card that says "Invitation reserved for X people" and include the number each invitation/household permits before sending to your guests
Some people have started to take advantage of the digital age by providing an online method for RSVPing. If you choose to go the digital route, you can simply skip out on items 2-4, and include the link for guests to RSVP on the web.
If choosing the standard 3" x 5" postcard size for your RSVP cards, the envelope size equivalent would be an A-1 envelope. You can get these blank or customized to your liking.
What to include on the small return envelope:
A stamp, so guests can mail the card back to you with ease
The receiving address (your address)
And finally, you'll need an envelope to put all three prints in to mail out to each guest. If your invitation is a 4″ x 6″ size, the envelope size you'd need is an A-4. If it is a 5″ x 7″ postcard, you'll need A-7 envelopes.
Choosing a Design and Paper Type
1. Matte Cards with a Specialty Finish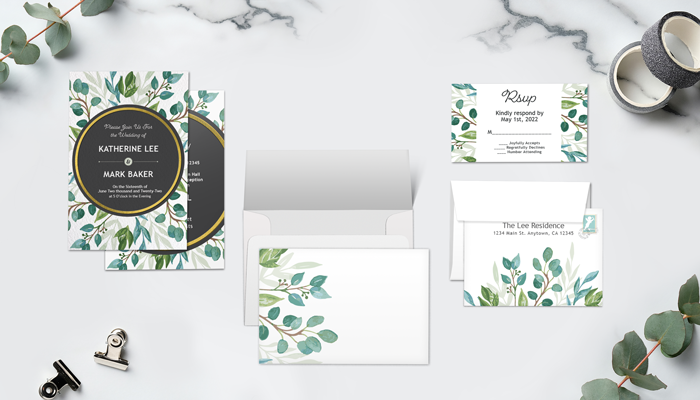 2. Shimmering Cards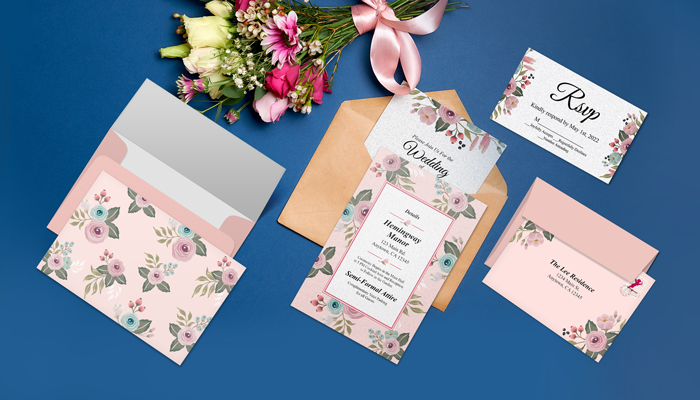 3. Eco-friendly Kraft Cards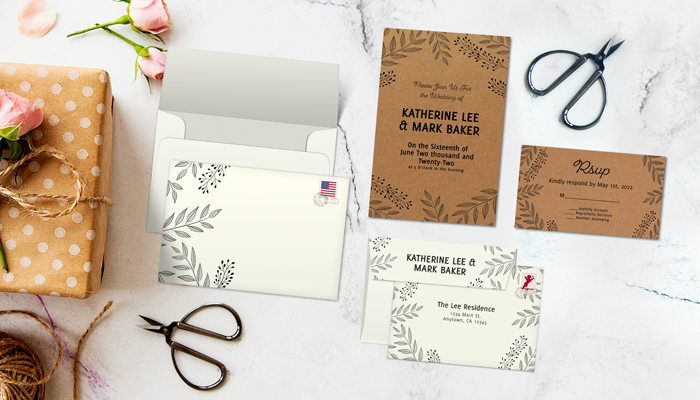 4. Thick, Textured Colored Edge Cards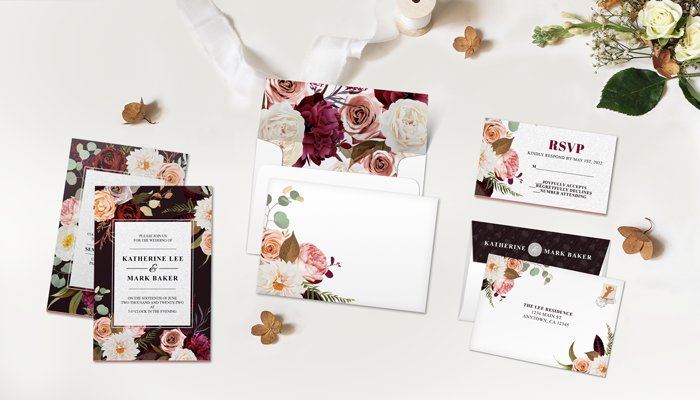 5. Thin, Woven Cards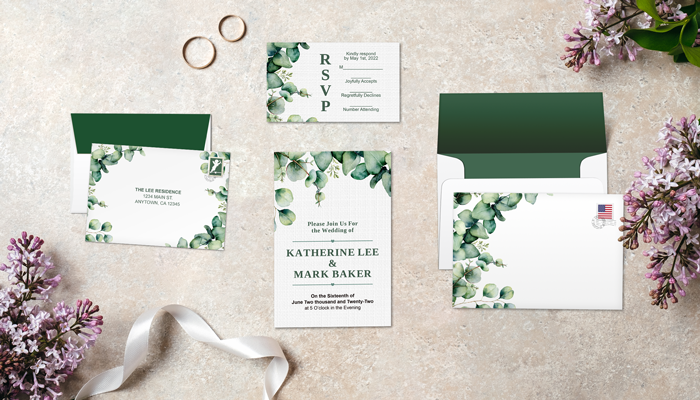 ---
Additional components you can include in your wedding suite
If your wedding is a destination wedding, or your guest list expands to various geographic regions, consider including a separate informational card that includes a list of hotels and stays, or if you need to let your guests know that you've reserved a hotel block for your party. Guests will appreciate this helpful gesture.
---
We have hundreds of design templates you can choose from to customize to your liking and create the perfect wedding suite. And! That's not all, you order all the prints you need for before, on, and after your special day directly from our website – including placement cards, signage, and thank you cards.
Creating a wedding suite may seem daunting, but at the end of the day, it's much easier than it seems, and your desired vision is what matters the most. In tune with a hassle-free experience, you'll have almost every print you need to make your wedding day special, all in one place.
---
Planning a wedding? Share your print journey with us on Instagram and Facebook for a chance to be featured! @gotprint